What is Ethereum 2.0 and why should we expect it? Since 2020, DApps on Ethereum have boomed, with the number now over 400. However, Ethereum currently has a TPS (Transactions Per Second) of only 15, making the network prone to congestion and high gas fees.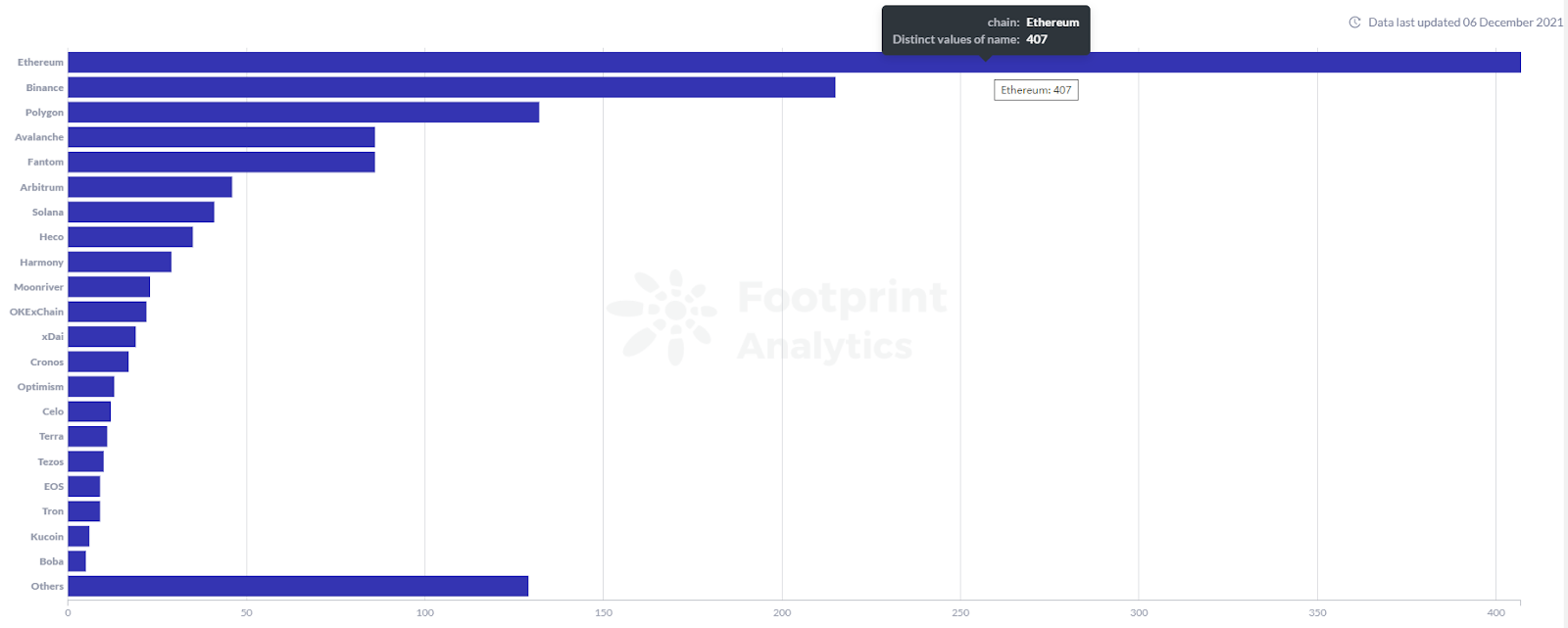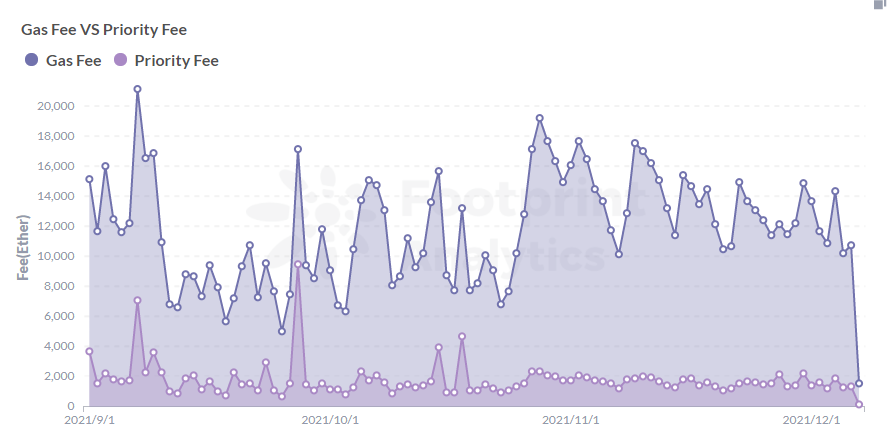 Ethereum is in dire need of scaling solutions that increase the limits of its blocks to boost TPS. This is the reason why Ethereum 2.0, which aims to improve Ether's scalability through network upgrades, is highly anticipated. 
Ethereum 2.0 includes the following 3 upgrades, which aim to improve the scalability, security and sustainability of Ethereum.
The Beacon Chain: Proof of Stake (POS) mechanism is introduced, which is an algorithm used to generate new blocks and reach consensus with other nodes. The beacon chain also provides the infrastructure for the sharding mechanism.
Shard Chains: Improve the scalability and carrying capacity of Ethereum by creating 64 new shard chains.
The Merge: This refers to the gradual migration of Ethereum from the main network to the beacon chain. When the upgrade is complete, the entire Ethereum network will be fully enabled with the PoS consensus mechanism.
The upgrade of Ethereum 2.0 will still take several years to complete. On October 27, 2021, the beacon chain of Ethereum 2.0 completed its first live mainnet upgrade and is expected to be merged in the second quarter of 2022.
Due to the multiple obstacles encountered in the transformation of Ethereum, there are ambitious developers thinking about other solutions in parallel and many chains are starting to emerge.
Sharding is the main technology chosen by most public chains when scaling. And Harmony is one of the chains that use sharding technology.
About Harmony
Harmony is a high-performance chain based on state sharding and PoS. Each shard is equivalent to a separate blockchain with the ability to interact and transfer information between different slices, enabling multiple shards to be connected into a consistent network. 
The project is dedicated to building a new-generation blockchain network: a highly scalable, secure, low-energy blockchain based on a sharded architecture.
How can Harmony be a span competitor to Ethereum 2.0 if it is only the application of sharding technology?
In addition to sharding technology, Harmony has some unique features designed to address the challenges faced by other blockchain protocols.
Deep Sharding System:

Deep sharding, which is a multi-layer sharding including the network, transactions and state, coupled with the introduction of Kademlia routing protocol, allows block data to be transmitted to the destination via the shortest path. Based on this, it also allows for the inclusion of smaller nodes, ensuring the maximum degree of decentralization.

Consensus Mechanism

: Harmony is actually a consensus mechanism using PoS+FBFT, which is mainly a substantial improvement on Zilliqa's PBFT. PBFT consensus protocol has validators and leaders, and each communication needs to be broadcast to all validators and nodes, and the more nodes, the more communication complexity increases in multiples. The improved algorithm leader runs a multi-signature signature process to collect the votes of the verifiers, which greatly reduces the complexity of communication.

Distributed Random Generation (DRG):

This is a mechanism to simplify the platform communication process. Harmony cleverly combines the cryptographic properties of VRF (Verifiable Random Function)+ and VDF (Verifiable Delay Function). In this protocol, all verifiers produce random numbers first, and then the leader performs a secondary computation on the random numbers. Such a process ensures that malicious nodes cannot predict or interfere with the results of random numbers in advance, and the whole process is of low complexity and can be completed in a short time.

Kademlia Cross–shard Communication

: The introduction of the Kademlia routing protocol significantly reduces the network overhead of cross-shard transactions.
Harmony's creators say it provides a platform to power the decentralized economy of the future.
Harmony's Development
TVL Harmony's Mcap/TVL of 3.88 is a slightly high valuation, and the higher demand for TVL growth is expected to be more reasonable. Harmony's positive performance in launching its development fund, expanding partnerships and deploying multiple projects (Curve, etc.) gives us expectations for Harmony TVL growth. 

Token Harmony announced a $300 million ecosystem development fund on Sept. 9, bringing a near 2-month price increase in ONE after the announcement.

DeFi Projects on Harmony 
Although there are many projects on Harmony's official ecosystem chart, the number of DeFi projects in it is limited from Footprint Analytics data.
Harmony's DeFi projects are concentrated in the DEX category. Lending, yield and other areas are still relatively underdeveloped. 
In addition, the project with the highest TVL on Harmony is Defi Kingdoms, a play-to-earn game with a game as the carrier and DeFi as the core. But big partners like Curve, Anyswap, and Sushiswap have not had high TVLs after deploying on Harmony.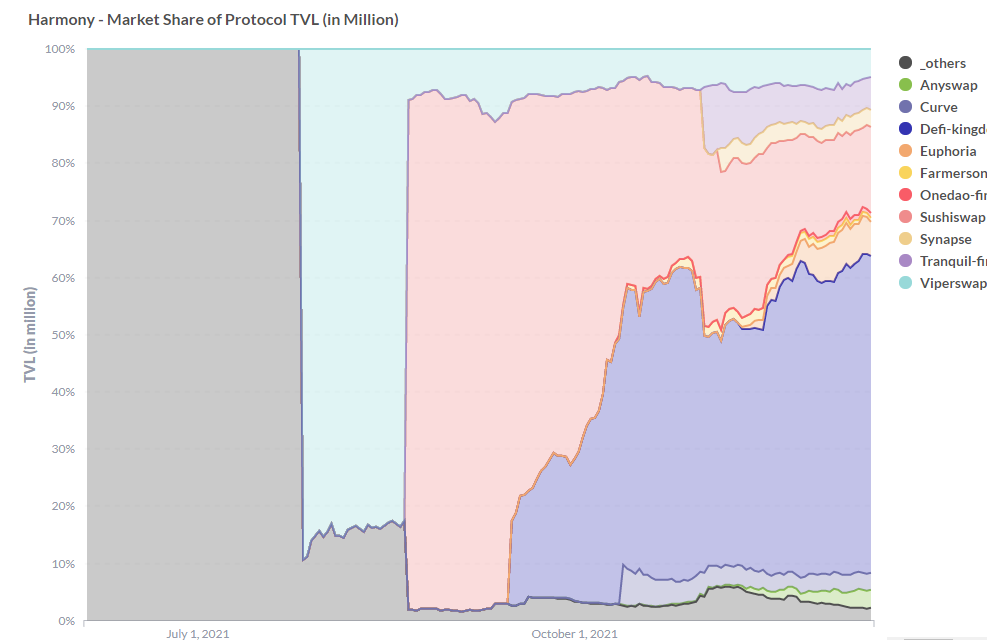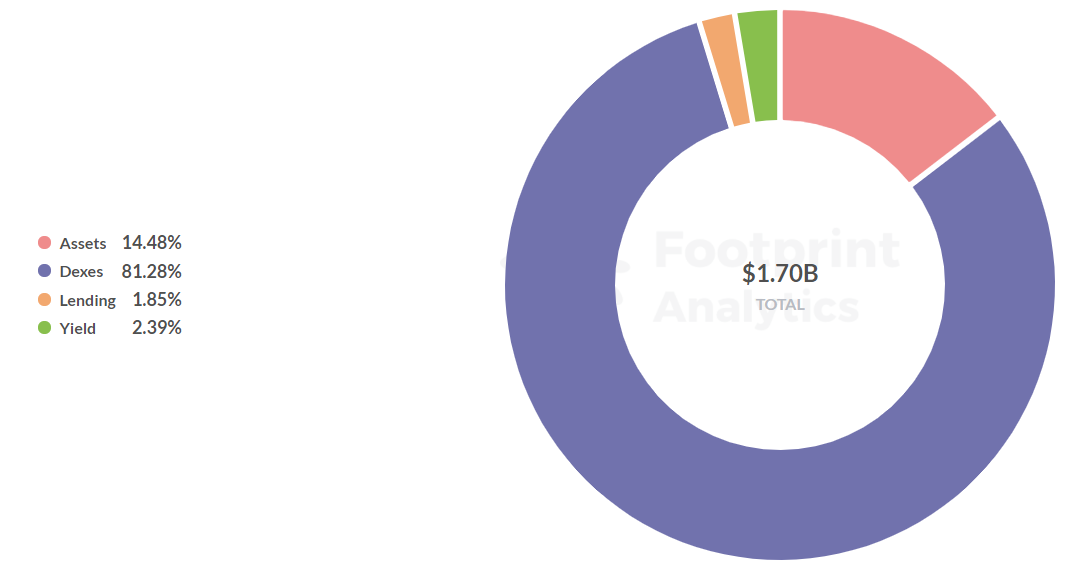 The Future of Harmony
Harmony's TVL is still low, ranking 20th among chains, and about 50% of TVL is concentrated on Defi Kingdoms. As a new chain, Harmony is still building out its ecosystem,  with enormous room for growth. Since September, Harmony has been promoting its development plan, which could speed up ecosystem development. 
The above content represents the personal views and opinions of the author and does not constitute investment advice. If there are obvious errors in understanding or data, feedback is welcome.
Data From: Harmony dashboard
This report was brought to you by Footprint Analytics.
What is Footprint
Footprint Analytics is an all-in-one analysis platform to visualize blockchain data and discover insights. It cleans and integrates on-chain data so users of any experience level can quickly start researching tokens, projects and protocols. With over a thousand dashboard templates plus a drag-and-drop interface, anyone can build their own customized charts in minutes. Uncover blockchain data and invest smarter with Footprint.
CryptoSlate Newsletter
Featuring a summary of the most important daily stories in the world of crypto, DeFi, NFTs and more.
Get an
edge

on the cryptoasset market

Access more crypto insights and context in every article as a paid member of CryptoSlate Edge.

On-chain analysis

Price snapshots

More context