The cryptocurrency market has sunk by 5% in the past 24 hours. Its total value now stands at $2.5 trillion, down from an all-time high of nearly $2.8 trillion just under a week ago. Bitcoin (BTC) has led this slide, falling below $60,000 for the first time since mid-October. Other major coins have also suffered sharp drops, with ethereum (ETH) slipping by 4.5% in the last day and with cardano (ADA) dipping by 9%. However, a number of newer coins are bucking the overall trend, posting gains instead of losses. As such, we've put together a list of the 5 best new cryptocurrency to buy now. This covers younger coins that are rising right now, as well as those likely to rise significantly soon.
5 Best New Cryptocurrency to Buy Now
1. Shiba Inu (SHIB)
Call it a meme, a joke, or whatever else you want, but SHIB is today's big winner among the market's top 100 coins. At $0.00005323, it has risen by 25% in a single day. It's also up by 89% in a week and by 647% in a month.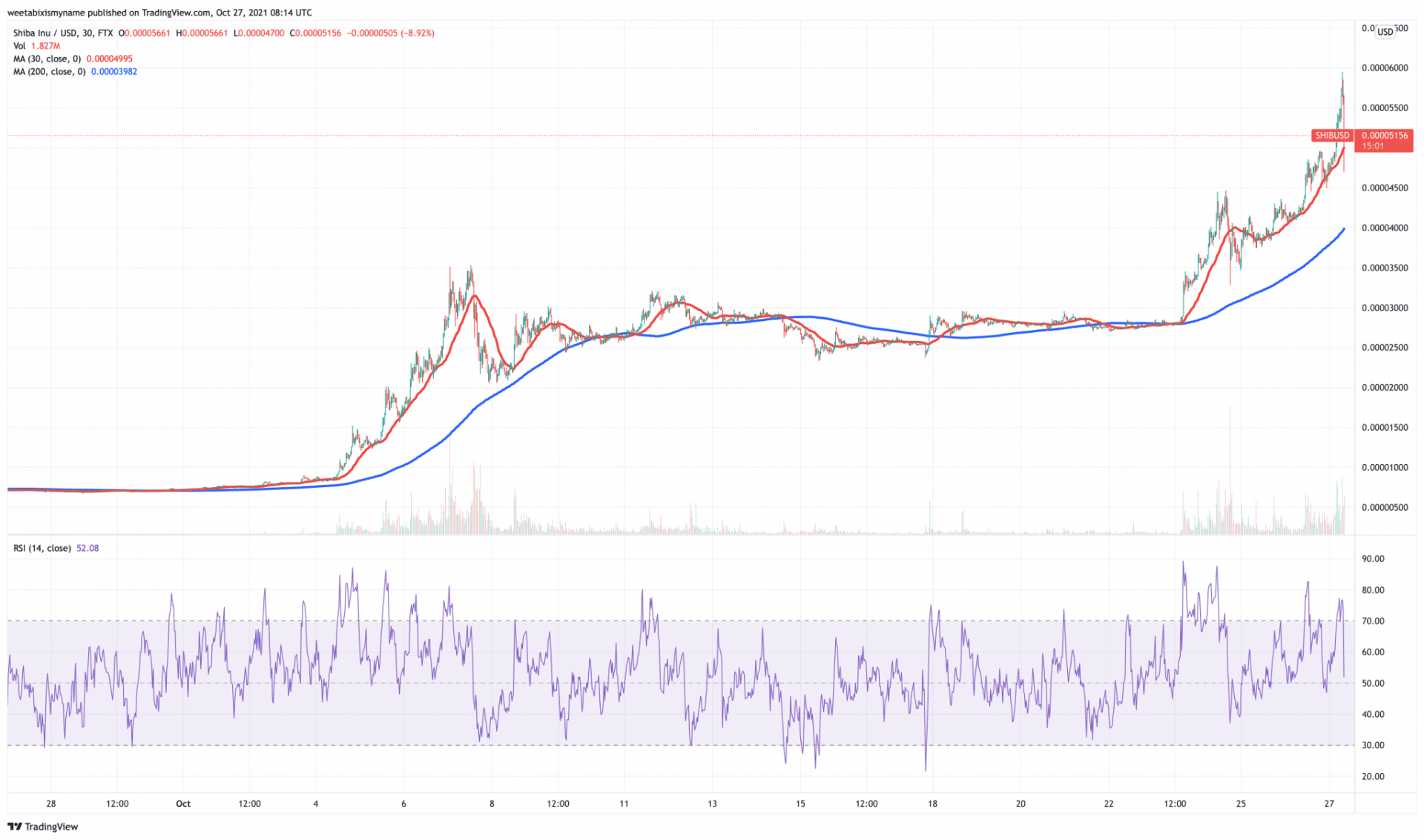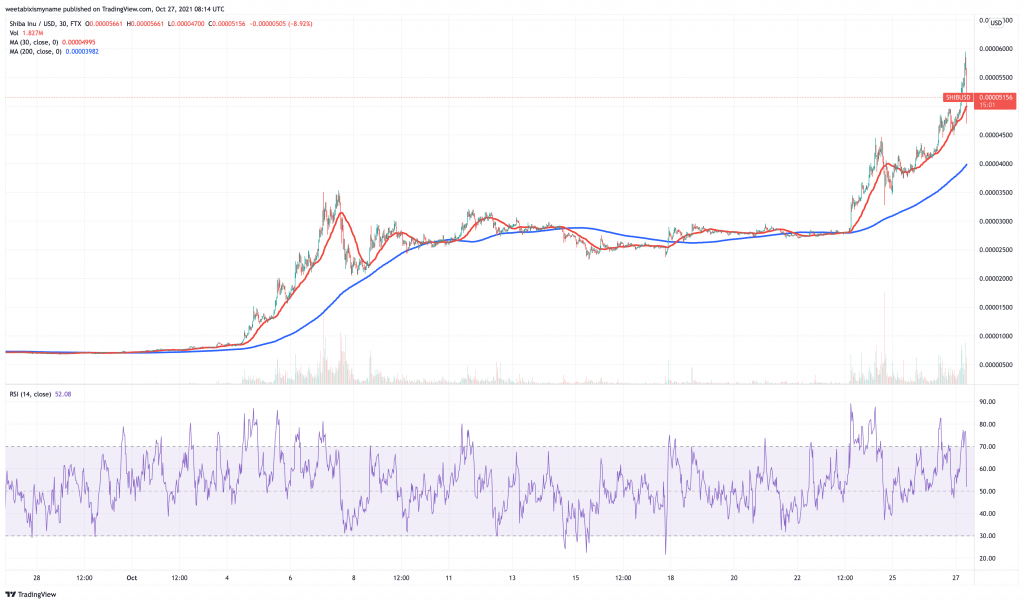 Despite flying high, SHIB's relative strength index (in purple above) is close to 50, indicating that it's neither overbought nor oversold at the moment. At the same time, its 30-day moving average (red) remains comfortably above its 200-day average (blue). This indicates that its momentum remains strong.
A number of factors are contributing to SHIB's current rise. As ridiculous as it no doubt is, its present rally kicked off after SpaceX/Tesla CEO Elon Musk tweeted a picture of a dog (Musk has since stated that he owns only BTC, ETH and DOGE).
Floki Frunkpuppy pic.twitter.com/xAr8T0Jfdf

— Elon Musk (@elonmusk) October 4, 2021
On top of this, reports indicate that a number of 'whales' have been buying SHIB in large quantities, causing its price to rise even further. Of course, traders need to be careful of timing, and consider that such 'whales' may be planning some kind of pump and dump.
? #ShibaInu is back up to $0.00002885 while the spotlight is back on #Bitcoin and its close-in on its new #AllTimeHigh. But keep an eye on $SHIB's whale transactions exceeding $100k. When these transactions come in bunches, price rises generally follow. https://t.co/oeGN85BpXS pic.twitter.com/G9kJopNTHE

— Santiment (@santimentfeed) October 18, 2021
Still, SHIB has some genuine momentum behind it. Coinbase listed the coin on September 16, while a community-led petition urging Robinhood to list the coin has attracted over 300,000 signatories.
ROBINHOOD SAID TO LIST SHIBA INU TO ITS PLATFORMS: SOURCE

— First Squawk (@FirstSquawk) October 18, 2021
This all suggests that SHIB can continuing rising in the near future. This is why it's one of our 5 best new cryptocurrency to buy now.
2. Secret (SCRT)
It may not remain a secret for long, but SCRT is one of the best-performing coins right now. While today's selloff has caused it to sink by just over 4.5%, its current price of $8.16 represents a 75% rise in the past week. It has also risen by a whopping 270% in the last 30 days.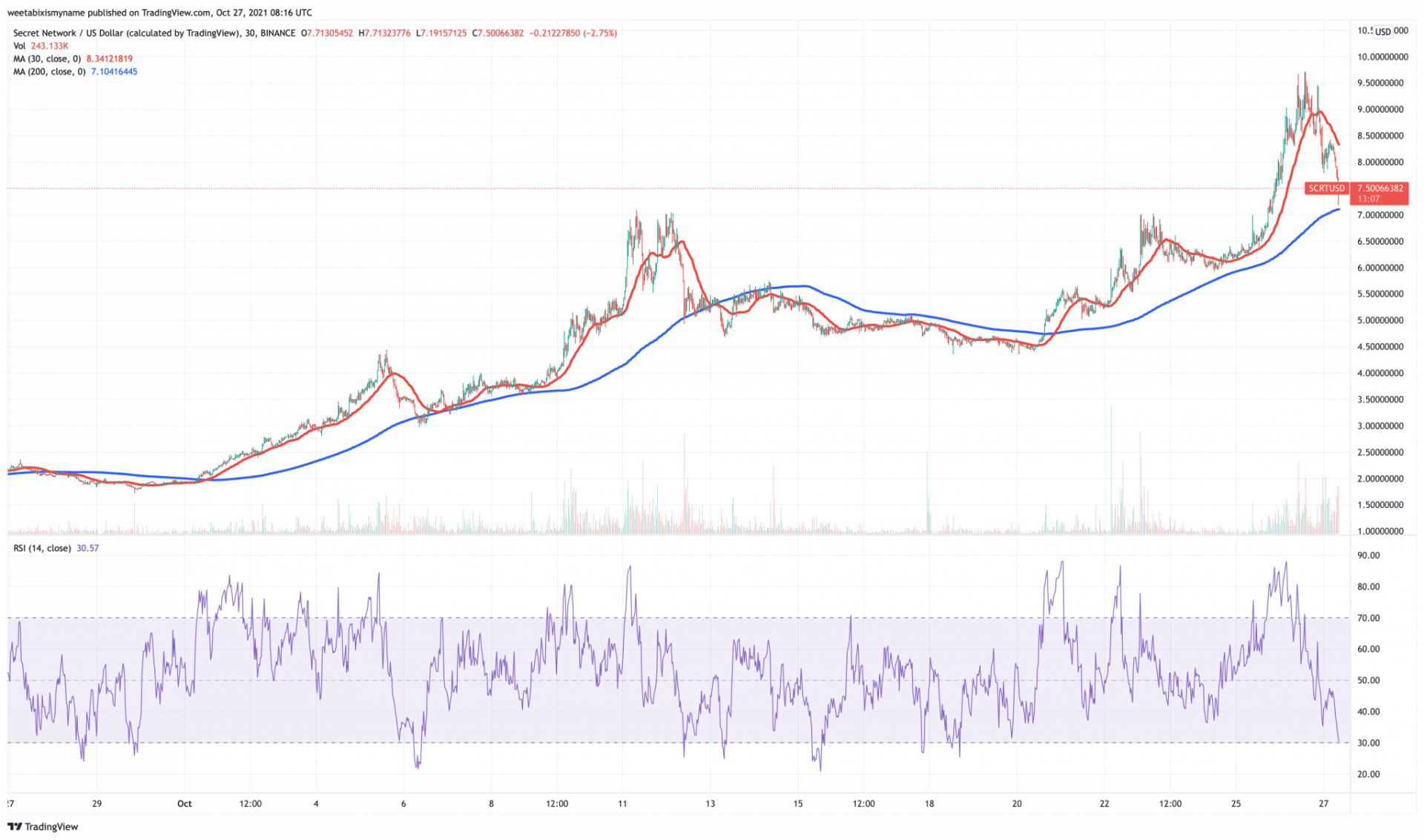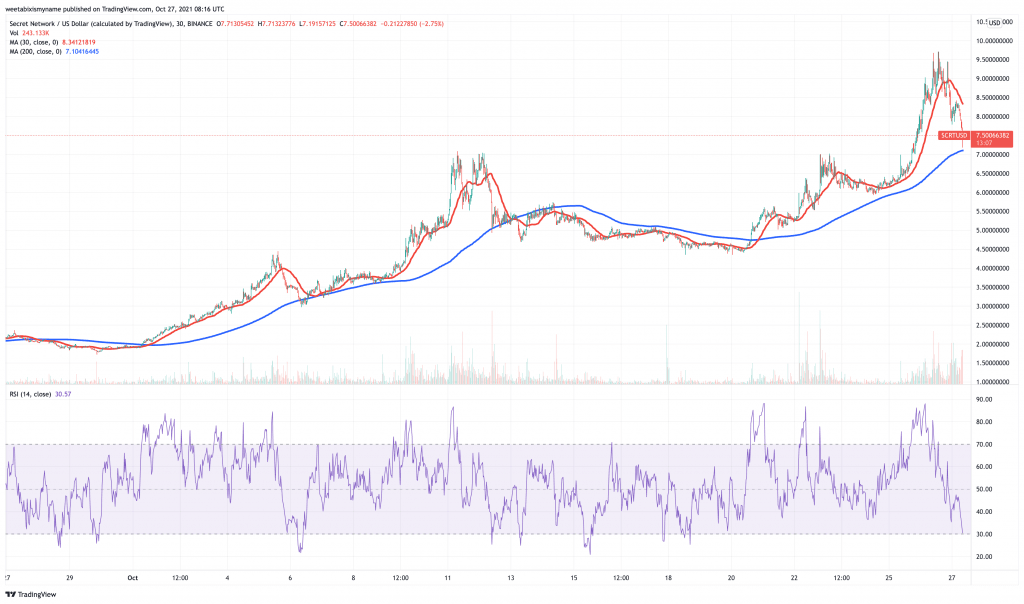 A day or so ago, SCRT would have been too hot for new investors to touch. It was significantly overbought, but now it's decisively oversold. This means you can currently get it at a discount, even though it's still likely in the midst of a longer term rally.
For those who aren't familiar with SCT, it's the native token of the Secret Network. The latter is a blockchain platform which allows for programmable smart contracts that offer a much higher level of data privacy than many other similar platforms.
This premise has allowed Secret to attract a growing number of users and partners. For instance, just over a week ago it announced a partnership with OpenSea to sell private NFTs.
? NEWS ?

Secret partners with @opensea on the launch and auction of a one-of-a-kind Secret #NFT collection in November – featuring a secret world-renowned artist ?

7️⃣ unique #NFTs. Never-before-seen content.

Follow: @Iconic_Secret

Read more now ? https://t.co/7NL3MU4APz

— ?ecret Network – Supernova is here ? (@SecretNetwork) October 21, 2021
It also recently celebrated passing 100,000 Twitter followers, indicating just how quickly its community is growing. This is good performance for a platform whose mainnet went live only last year.
Recently, @SecretNetwork passed 100,000 Twitter followers. Trust me – it's about to grow even faster.

What should we do to celebrate our followers and our Secret Agents?

Reply with your ideas here. If I pick your idea and execute it, I'll give you 50 $SCRT.

Go nuts ??

— Tor Bair ? ? (@TorBair) October 24, 2021
3. Avalanche (AVAX)
AVAX is down by a hefty 13% in the past 24 hours, to $62.26. However, it's still up by 9% in the last week, and by 14% in the past fortnight.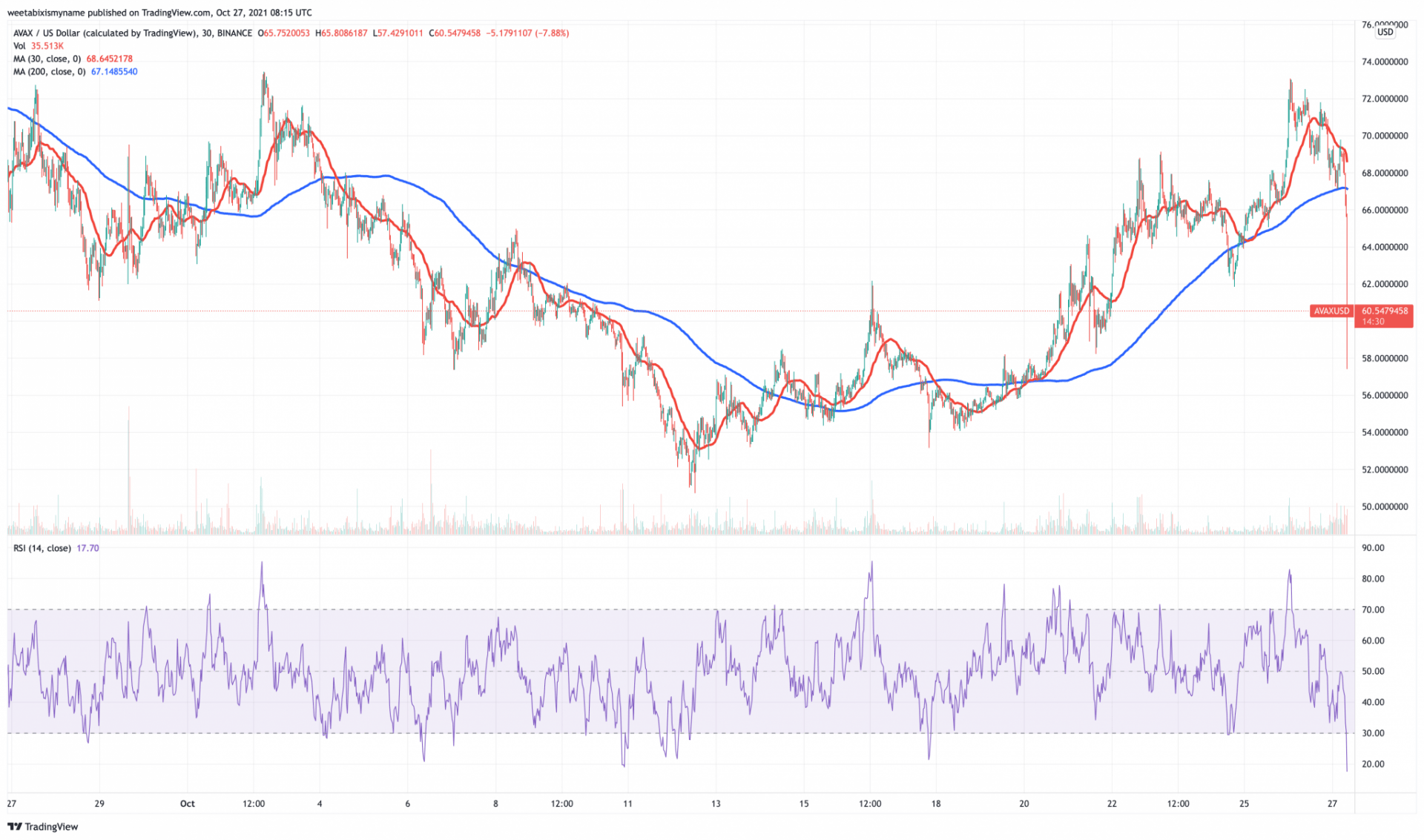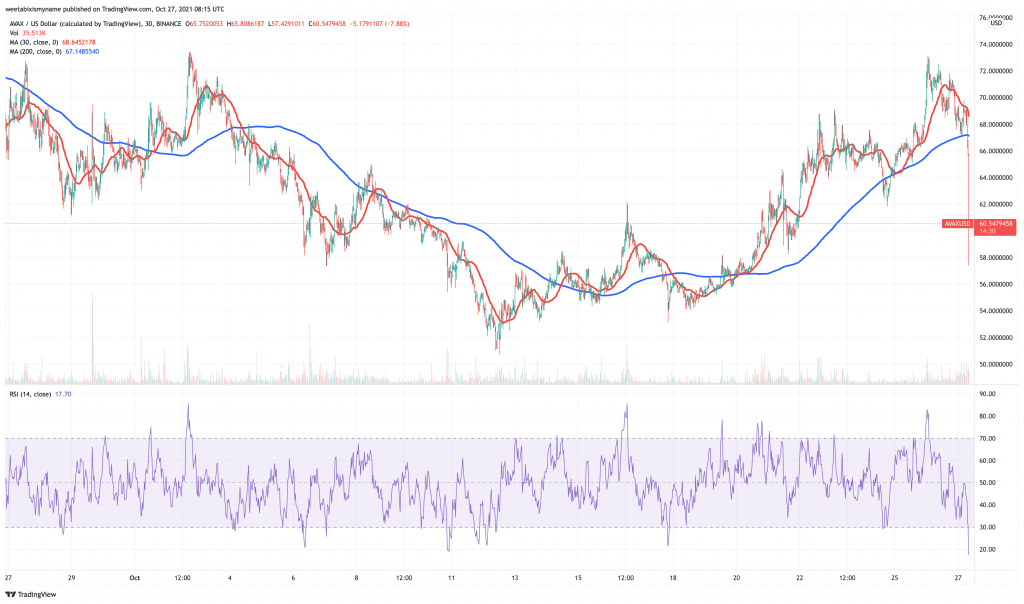 With AVAX dropping so sharply right now, its RSI has firmly entered oversold territory. In other words, now is a great time to get it at a discount.

And despite AVAX's cliff-edge fall today, Avalanche remains are highly viable platform. Its total value has risen to $8.5 billion in recent weeks. This figure stood at only $2 billion as recently as the beginning of September, as well as $4 billion at the beginning of October. Even with today's dive, the fact that its TVL remains so high is encouraging.
Some stats on ?

– 1093 validators
– 16,776 delegations
– Max daily TPS consistently between 100-350 tps
– Daily active addresses surpassed 70K

and, finally (this is *very* important), the usage metrics are there without any observable spam (too expensive to spam). Organic.

— ./kevinsekniqi ? good vibes only (@kevinsekniqi) October 26, 2021
It's worth remembering that, in mid-September, Polychain and Three Arrows Capital invested $230 million in Avalanche. Not only is this a big seal of approval, but this capital injection will help the platform to grow its ecosystem and strengthen its technology. In turn, it will help AVAX recover strongly from its current slippage.
? BIG News ?@Polychaincap and Three Arrows Capital led a $230M investment in the #Avalanche ecosystem to support growth of the platform.https://t.co/T141NFEoIG

— Avalanche ? (@avalancheavax) September 16, 2021
4. Axie Infinity (AXS)
AXS is down by 8% in the past 24 hours, to $124.57. While this represents only a 1.8% rise in the last week, AXS is 95% up in the past month. This makes it one of the best-performing coins in recent weeks.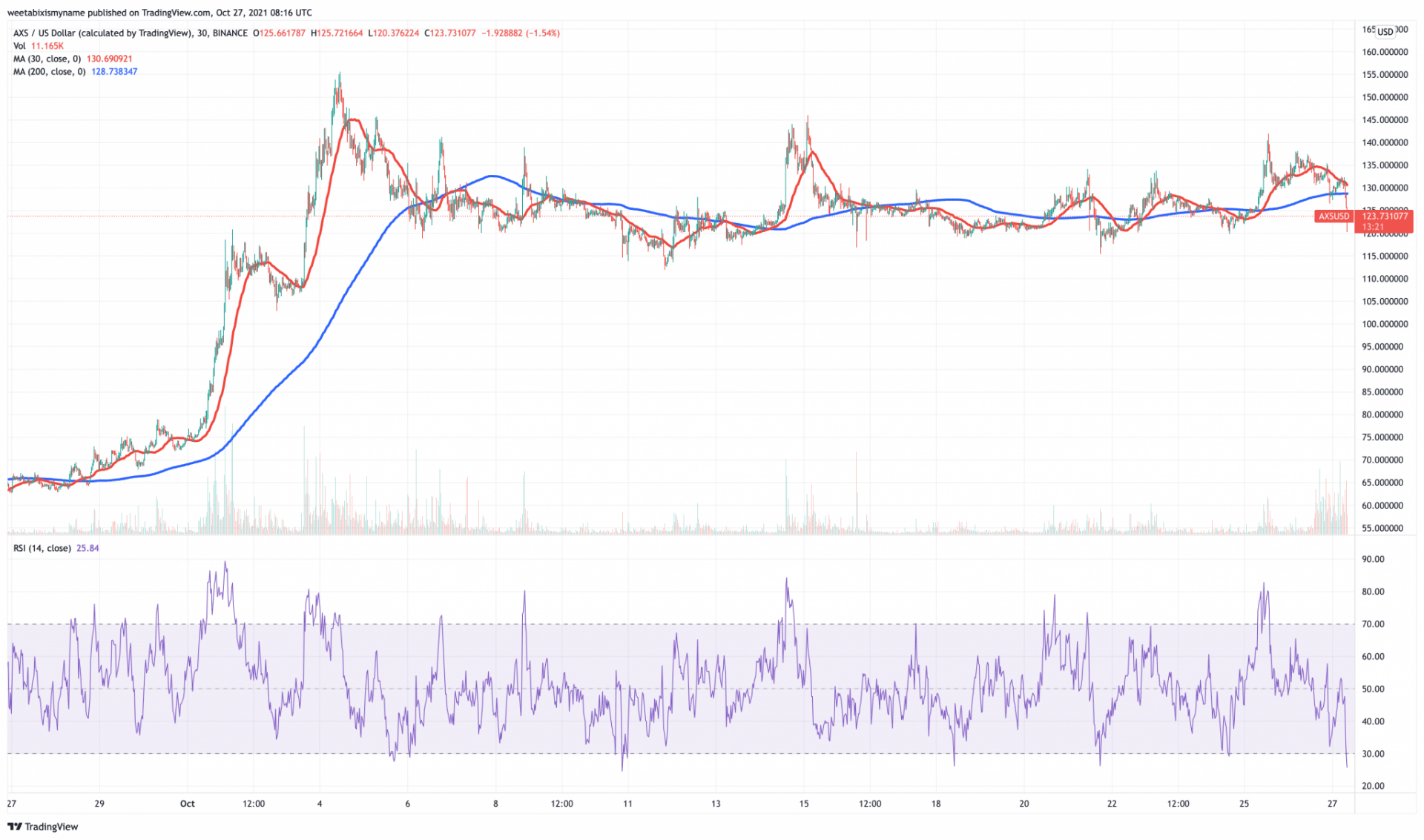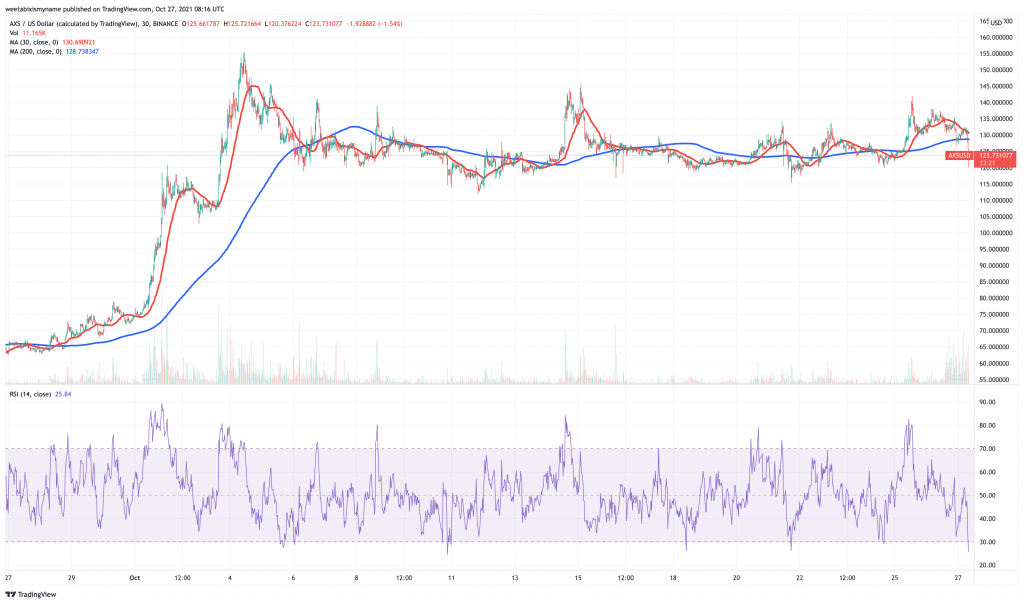 As with most other coins right now, AXS indicators suggest that traders are offloading it en masse right now. However, this means anyone who currently hasn't entered its market before now has a golden opportunity to do so.
And while it is currently currently sinking, AXS's fundamentals remain strong. As the native token of the very popular Axie Infinity NFT-based game, it will continue attracting a high level of demand. Indeed, Axie Infinity now claims 2.27 million daily active users, having stood at only 61,125 at the end of May. This equals over 3,000% growth in under five months, as well as 12% growth since the start of October.
The NFT-based game also exceeded $2 billion in total transaction volume to date at the end of September, as well as $10 million daily volume. This is impressive insofar as AXS went public only as recently as November 2020.
#SalamatAxie
✅ $2B Tx Volume
✅ $10M + Dollars 24H Vol.
✅ Axie Esports
✅ Ronin DEX
✅ AXS Staking
✅ Soulbound Axies (Free-to-Play)
✅ Land Game Play
✅ Software Dev Kit (SDK)
✅ Proven Team
✅ The Most Amazing Community pic.twitter.com/76OG6g3EZT

— Kookoo✨?? (@kookoocryptotv) September 29, 2021
Also impressively, Andreessen Horowitz led a $150m Series B funding round in early October for the game's developer (Sky Mavis), valuing the firm at $3 billion. This is why AXS is one of the 5 best new cryptocurrency to buy now.
Crypto scoop: NFT game Axie Infinity valued at $3 billion in a new round led by Andreessen Horowitz. The valuation reflects the *tremendous* growth in sales on the multiplayer NFT game. https://t.co/MJkxc5CsQ6 w/@hgmiller29

— Kate Clark (@KateClarkTweets) October 4, 2021
5. Internet Computer (ICP)
At $42.35, ICP is down by 14% in the past 24 hours. It's also down by 3% in the past week, and by the same percentage in the last 30 days.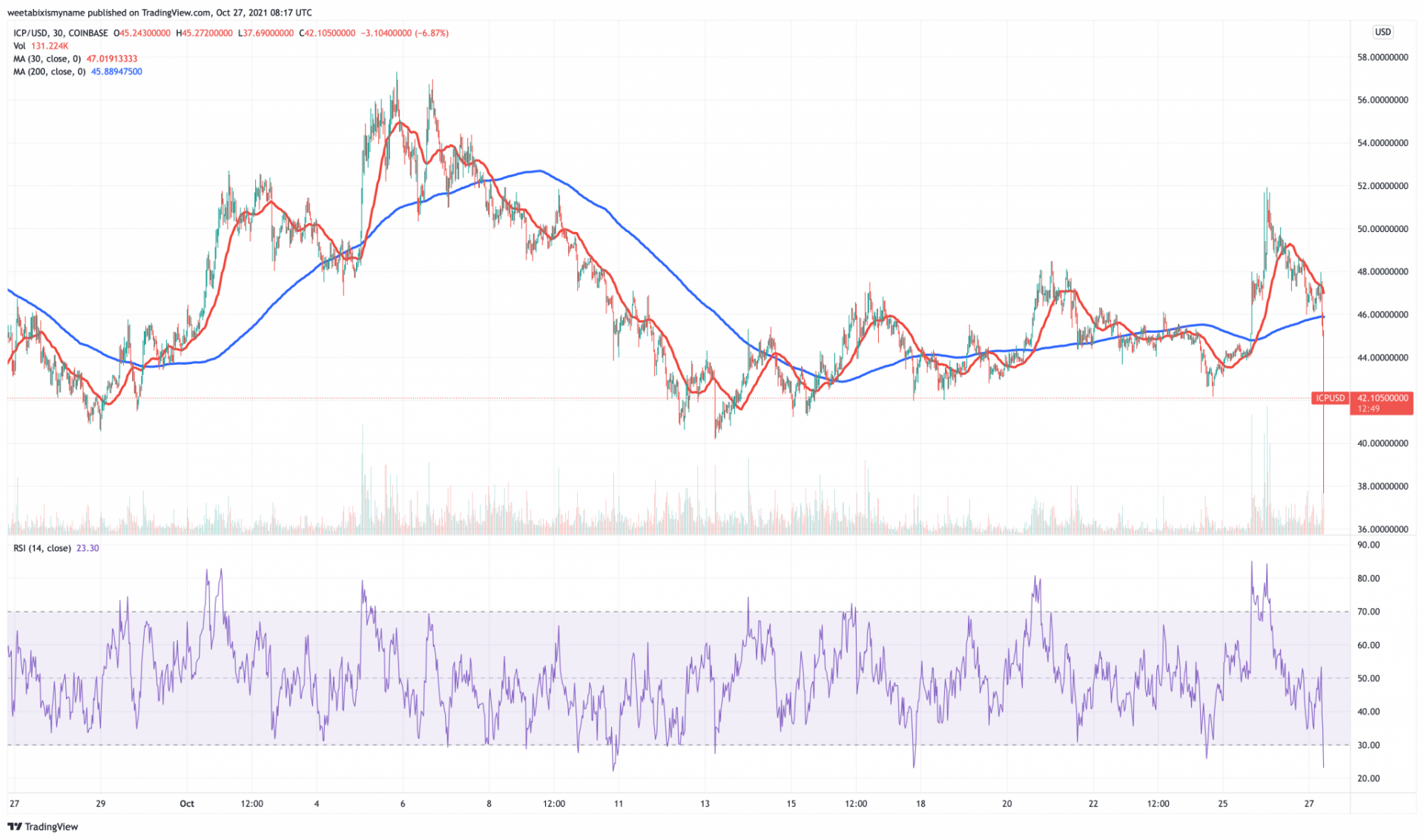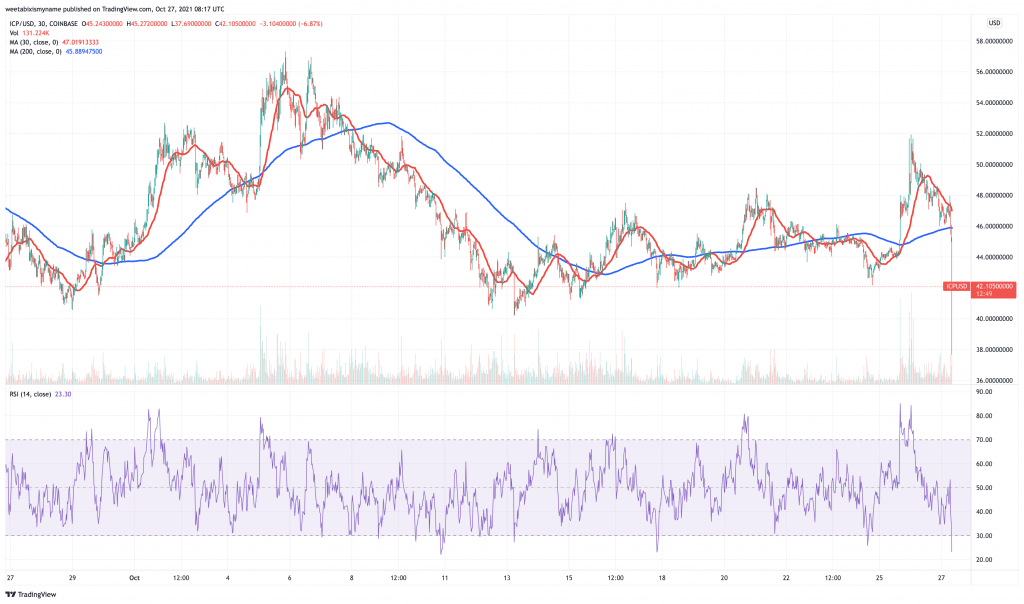 ICP is also going at a major discount right now, with the coin being excessively oversold. As with the other coins on this list, it also boasts promising fundamentals.
Specifically, its native Internet Computer platform is arguably one of the most exciting in the cryptocurrency sector. It aims to build an entirely decentralised version of the internet, running running on a distributed network of servers. And given recent outages suffered by the likes of Facebook, such a version of the Web is certainly needed.
Last week's Slack outage and today's Facebook outage enforce that building humanity's mission-critical software on the decentralized #InternetComputer has never been more urgent.

Apply for a grant: https://t.co/ukqv8Vs8w4
Start building: https://t.co/rfPytIMEUS

— DFINITY Foundation (@dfinity) October 4, 2021
Yesterday, the Internet Computer noted having passed 12,000 smart contracts running on its platform. This gives an indication of just how quickly development is progressing on its network, which launched only in May.
Canister smart contracts running on the #InternetComputer have surpassed 12,000. ?

Canister smart contracts are computational units powered by cycles. The increase speaks to the growing developer activity on the network. ?️

Live stats: https://t.co/e4FaOUPSvS pic.twitter.com/NDTeA1femW

— DFINITY Foundation (@dfinity) October 26, 2021
Likewise, the DFINITY Foundation tweeted a week ago that the platform has now generated over 264 million blocks since its launch in May. To put this in some perspective, Bitcoin has produced only 706,908 blocks to date. This is enviable growth, and it underscores why ICP is one of our 5 best new cryptocurrency to buy now.
?This week, the #InternetComputer surpassed 264M blocks generated since Genesis.?

The block count metric speaks to both the speed and capacity of the #InternetComputer.

Find more live stats: https://t.co/e4FaOV7tnq pic.twitter.com/Jm3WJcUUHj

— DFINITY Foundation (@dfinity) October 18, 2021
Capital at risk