The cryptocurrency market is static after testing highs over the past few days. Its total value now stands at $2.59 trillion, just a little short of its ATH of $2.62 trillion (set in May). Bitcoin (BTC) is unsurprisingly leading this charge, having been the beneficiary of very positive ETF news this week. However, it may be on the verge of becoming too expensive for many retail traders. Fortunately, a range of smaller altcoins present similarly good opportunities for big gains. That's why we've put together a list of the 5 best cryptocurrency to buy on low prices. This covers coins with good short- and/or long-term potential.
5 Best Cryptocurrency to Buy on Low Prices
1. Shiba Inu (SHIB)
It may be a meme coin, but SHIB remains one to watch as far as low prices and short-term potential are concerned. It's currently flat today at $0.00002810, having fallen by a mere 0.3% in the last 24 hours. It's also down by just over 7% in the last week, having dropped from highs set earlier this month. However, because of such highs, it's up by 109% in a fortnight and by 250% in a month.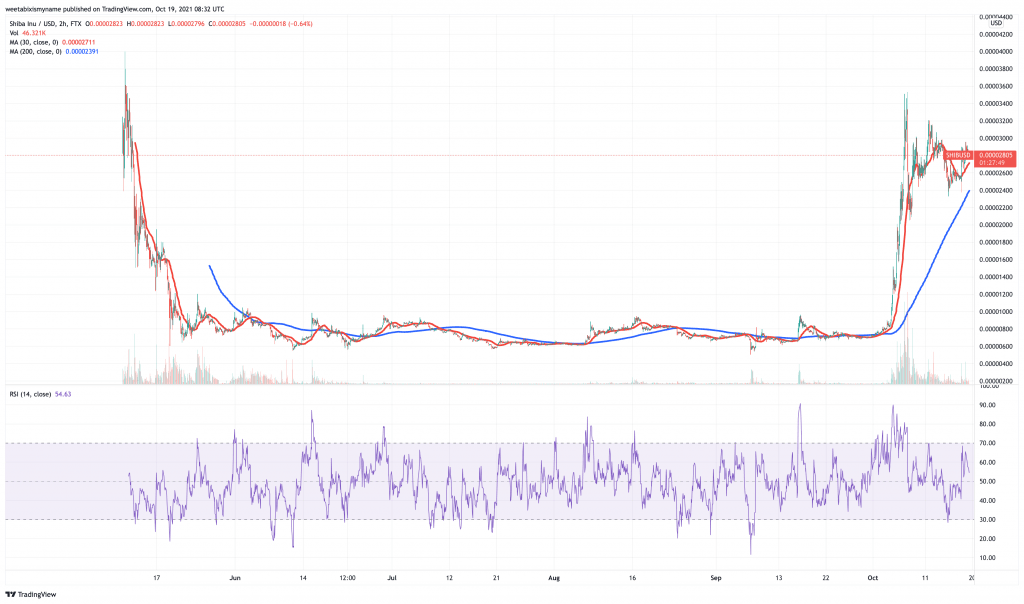 SHIB gained its current momentum after a particularly impactful tweet from Elon Musk. Assuming the Tesla/SpaceX CEO continues to champion the coin, it's likely it will enjoy future growth spurts. Its 30-day average (red) remains above its 200-day average (blue), suggesting continued upwards movement. Encouragingly, its relative strength index (purple) sits at about 55, indicating a good balance between overbought and oversold.
Floki Frunkpuppy pic.twitter.com/xAr8T0Jfdf

— Elon Musk (@elonmusk) October 4, 2021
Aside from being the trendiest meme coin of the moment, SHIB has a few other things going for it. Most notably, Coinbase listed the coin on September 16, on the back of previous Musk-inspired price rises. More recently, rumours suggest Robinhood is on the cusp of listing it. This would be a big boost for the coin.
ROBINHOOD SAID TO LIST SHIBA INU TO ITS PLATFORMS: SOURCE

— First Squawk (@FirstSquawk) October 18, 2021
2. Avalanche (AVAX)
AVAX is also pretty flat over the past 24 hours. At $55.37, it has posted a 0% gain/loss over the past day. This also represents a 0% gain/loss over the past week. At the same time, it's down by 15% in a fortnight and 19% in 30 days.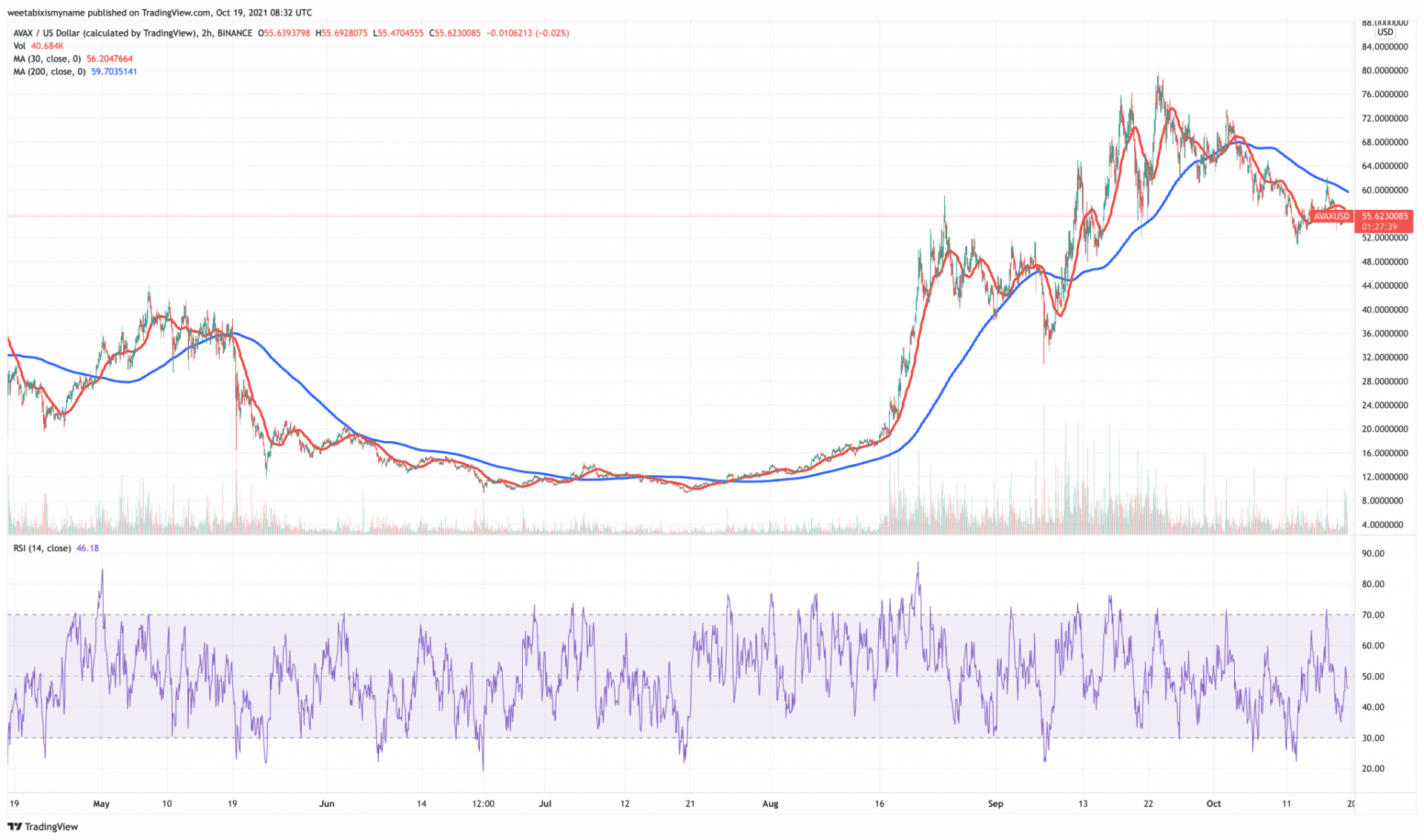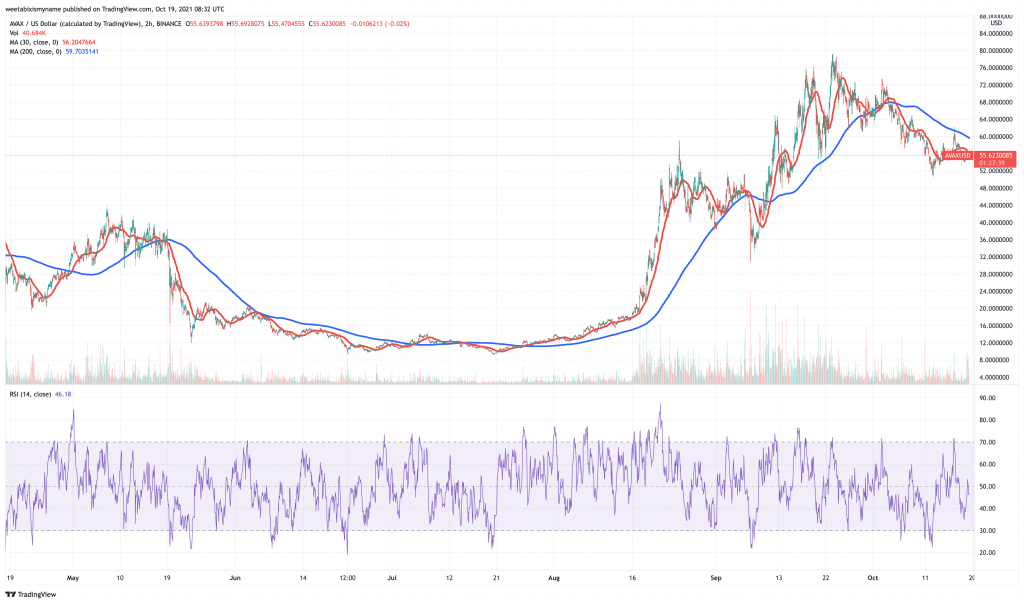 AVAX remains a good coin on a fundamental level, despite its recent comedowns. Conversely, this makes its technical indicators quite encouraging at the moment. For instance, its RSI is nearing 45, putting in the 'oversold' range of the spectrum. Likewise, its 30-day average is now below its 200-day average. This would ordinarily be a bad sign, but it suggests the bottom of a selloff. And by extension, the likely beginning of a new rally.
Again, Avalanche remains a good platform to believe in. Its total value has risen to $6.91 billion in recent weeks. This figure stood at only $2 billion as recently as the beginning of September, as well as $4 billion at the beginning of October. This shows just how quickly its ecosystem is growth.
Such expansion has inevitably attracted big investment. In mid-September, Polychain and Three Arrows Capital invested $230 million in the platform. Such funding will help Avalanche continue growing, and also help AVAX bounce back strongly from its current slump. This is why it's one of our 5 best cryptocurrency to buy on low prices.
? BIG News ?@Polychaincap and Three Arrows Capital led a $230M investment in the #Avalanche ecosystem to support growth of the platform.https://t.co/T141NFEoIG

— Avalanche ? (@avalancheavax) September 16, 2021
3. Terra (LUNA)
LUNA is another coin like AVAX: fundamentally strong, and yet selling at a discount. Its current price is $35.96, representing a 1.6% increase in the last 24 hours. It's also 8% down in the last week, as well as 23% down in the past fortnight. On the other hand, it's 3% up in the last 30 days.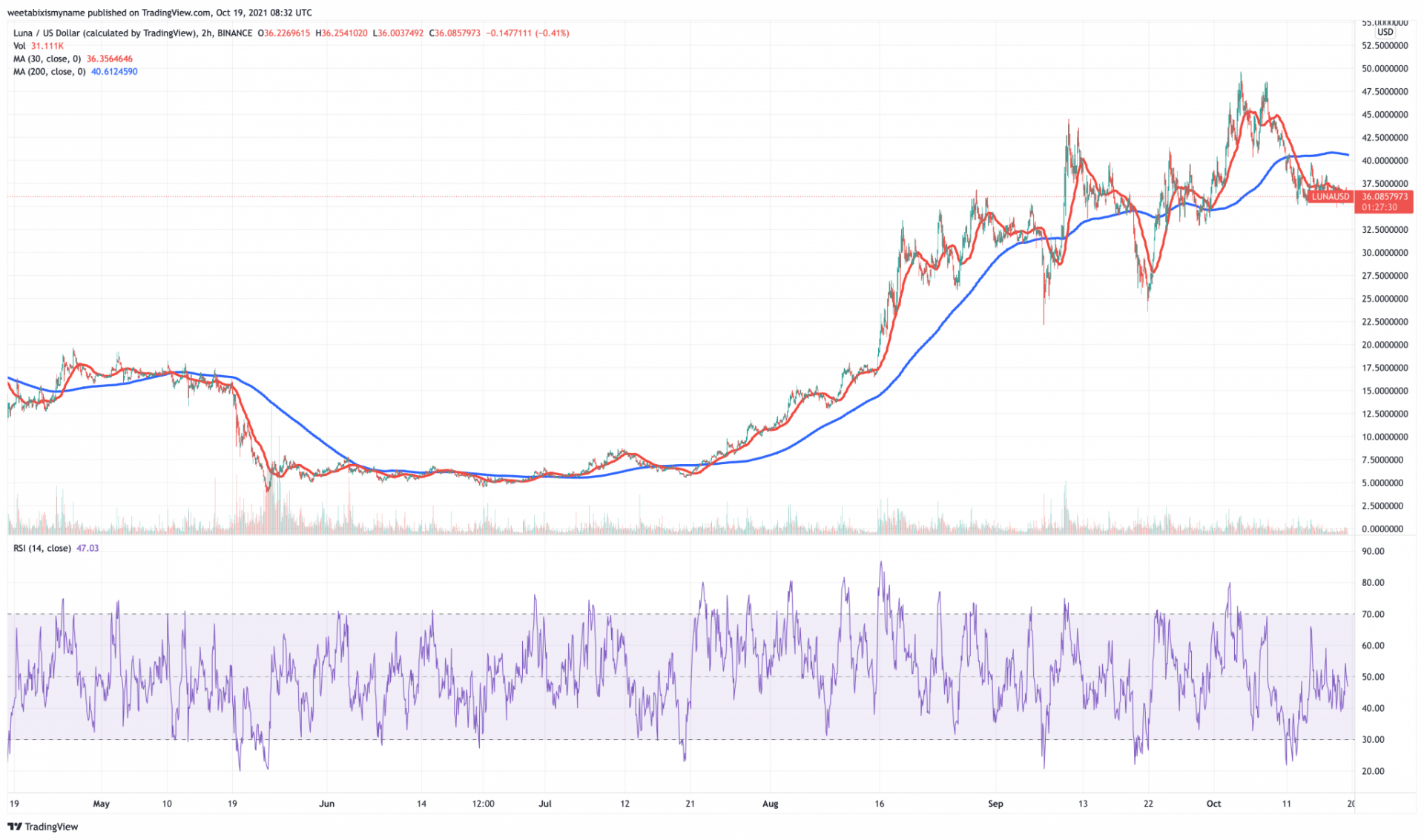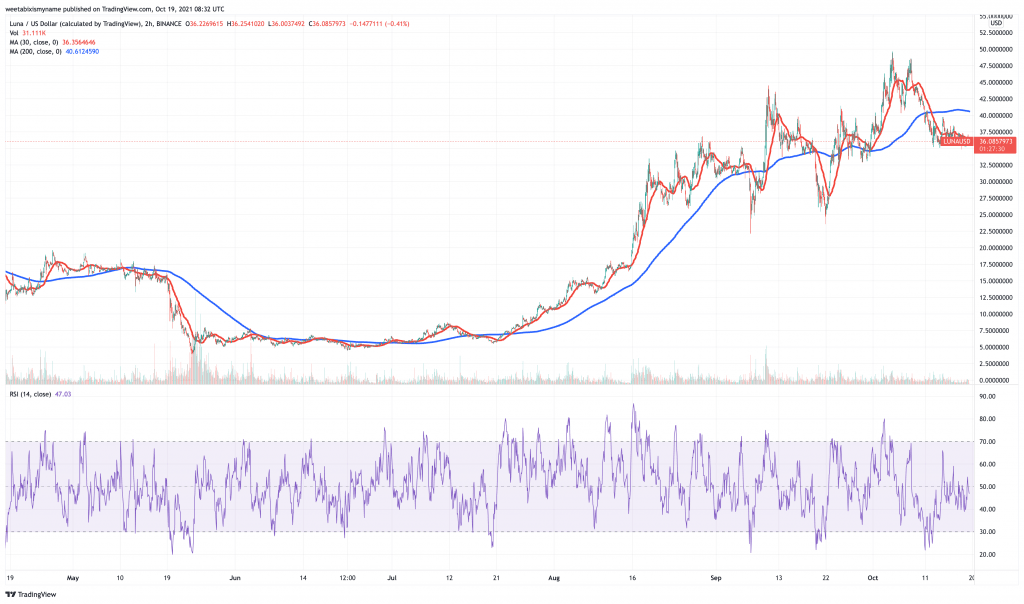 LUNA's technical indicators look eerily similar to AVAX's. Its RSI is nearing 45, while its 30-day average is below its 200-day. Basically, it's another oversold coin that's ripe for buying on the dip.
And like Avalanche, Terra has enjoyed plenty of bullish news in recent weeks. It successfully rolled out the Columbus-5 mainnet upgrade at the end of September. This provides it with performance upgrades, increases in LUNA staking rewards, and also burns all seigniorage from minting Terra stablecoins. Put simply, it increases the number of reasons traders have to be confident about LUNA>

1/ Columbus-5 is now officially live as the new Terra mainnet!

Welcome to the future of Terra ?https://t.co/EFnQnFr2lB

— Terra (UST) ? Powered by LUNA ? (@terra_money) September 30, 2021
Similarly, Terra's social engagement has more than doubled in the past three months. This gives a sense of its rapidly expanding community, an impression further reinforced by its total value locked in: $9 billion. This is up from $4.5 billion at the start of August.
Terra ??

Social Engagement is up 136.8% on 900.7 million? engagements with price +471.8% to $48.30 over the last three months.https://t.co/ZVTI5KtBSs #terramoney $luna pic.twitter.com/MFHyVKO6qC

— LunarCrush ? Social Intelligence for Crypto (@LunarCRUSH) October 8, 2021
4. Fantom (FTM)
FTM is one of the few altcoins doing well today. At $2.48, it's up by 13% in 24 hours. It's also up by 6% in a week, and by 85% in a month.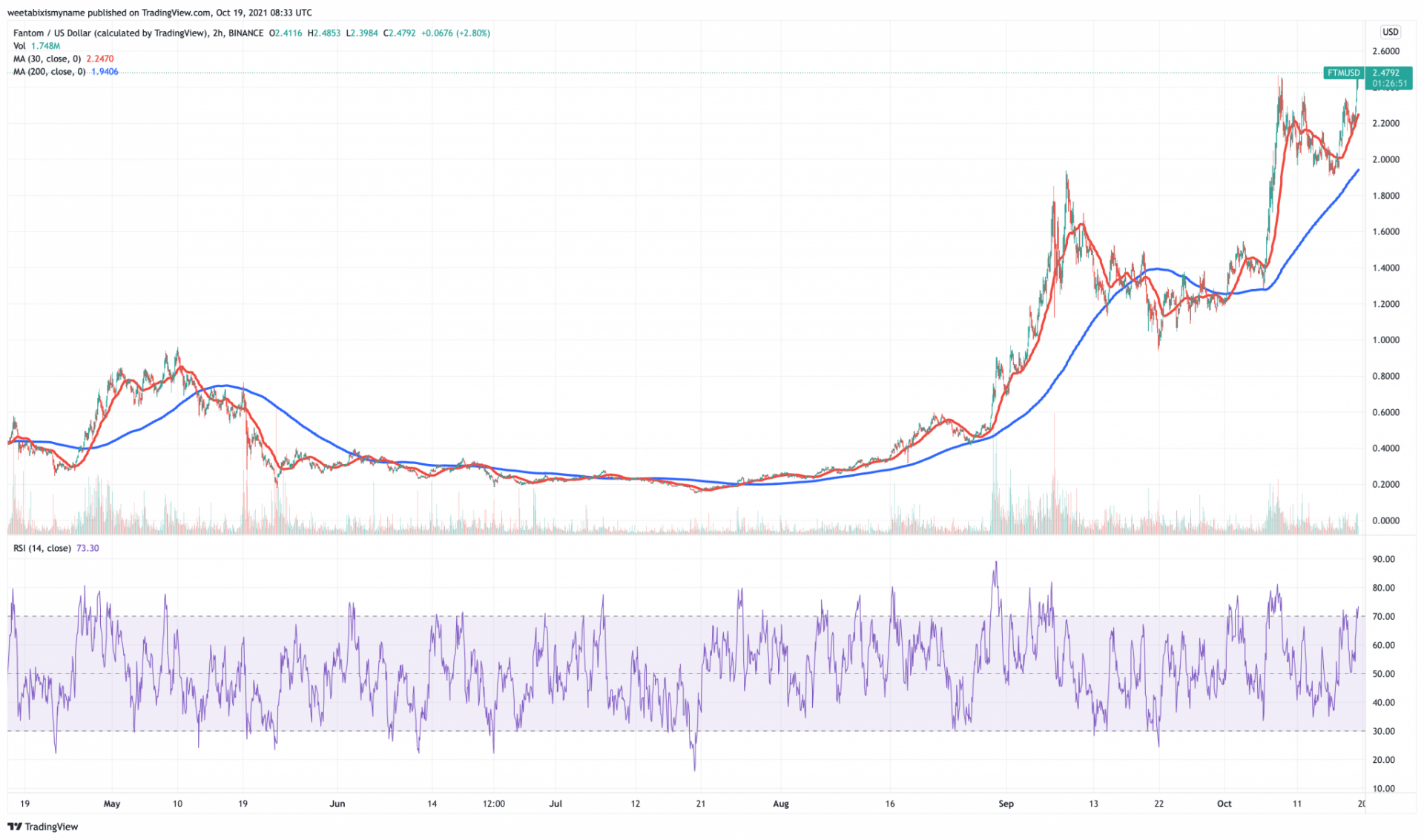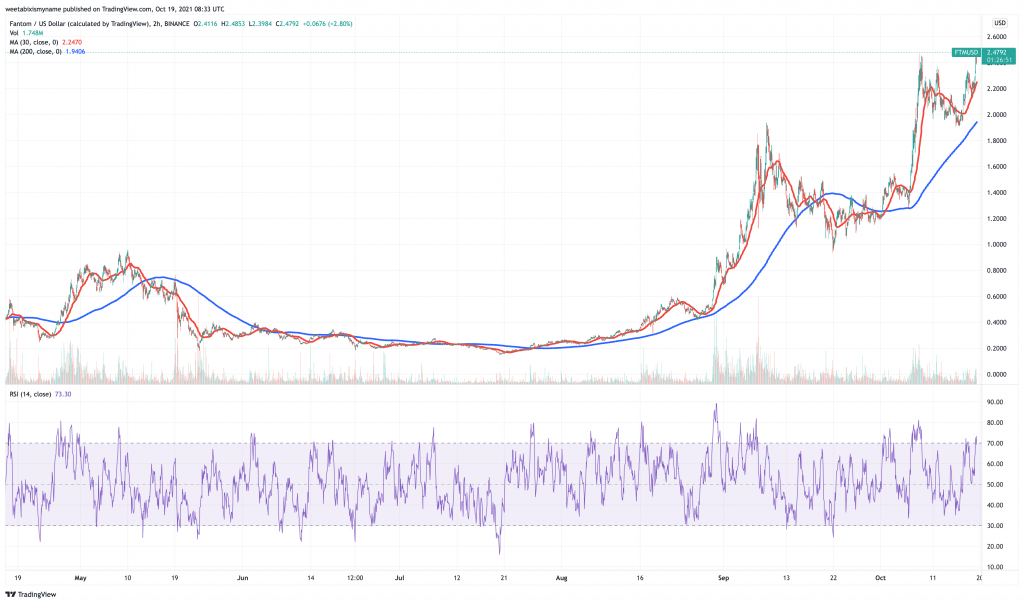 FTM is rising high at the moment, indicating strong momentum. Its 30-day average has scaled well above its 200-day, suggesting a new long-term level. Its RSI is also verging into overbought territory. While this may indicate a potential selloff, excess buying could be absorbed by Fantom's growth.
There's every reason to believe that Fantom's growth could expand quickly enough to absorb extra buyers. It recently celebrated hitting $4.8 billion in total value locked in, up from $1.6 billion as recently as the beginning of this month. In fact, DefiLlama now puts this figure at $5.42 billion, barely a week later.
The Fantom ecosystem is growing by the day!

? 880k unique addresses

? 750k txs/day

? 32k smart contracts deployed

? $4.8b TVL https://t.co/twuodxQii5

— Fantom Foundation (@FantomFDN) October 13, 2021
Given its rising TVL, it's no surprise to learn that Fantom's ecosystem is expanding. The platform is regularly adding new projects to its roster, such as stablecoins and DeFi protocols.
TrueUSD is now available on Fantom!

Head over https://t.co/WFiluB72ir to bridge your $TUSD from Ethereum to Fantom.

Many thanks @AnyswapNetwork @tusd_official https://t.co/EidfEuAbBW

— Fantom Foundation (@FantomFDN) October 15, 2021
With a rapidly growing ecosystem, it's likely that FTM can maintain its rally in the coming weeks. This is why it remains one of our 5 best cryptocurrency to buy on low prices.
5. Polkadot (DOT)
DOT has been doing pretty well as of late, rising by 20% in the last week. However, at $41.18, it's down by 3% in the last 24 hours. Nonetheless, it's still up by 32% in the past week and by 18% in the past month.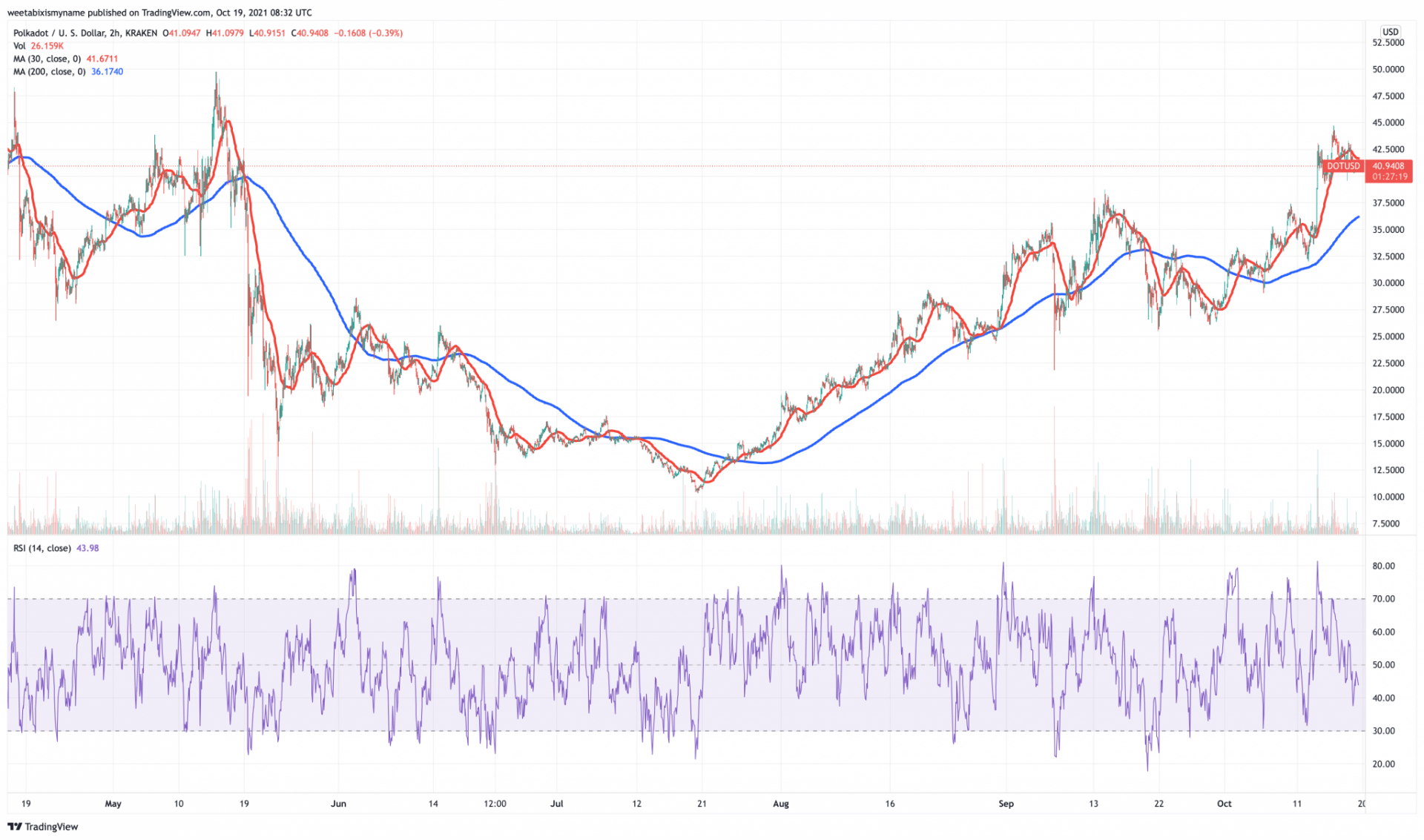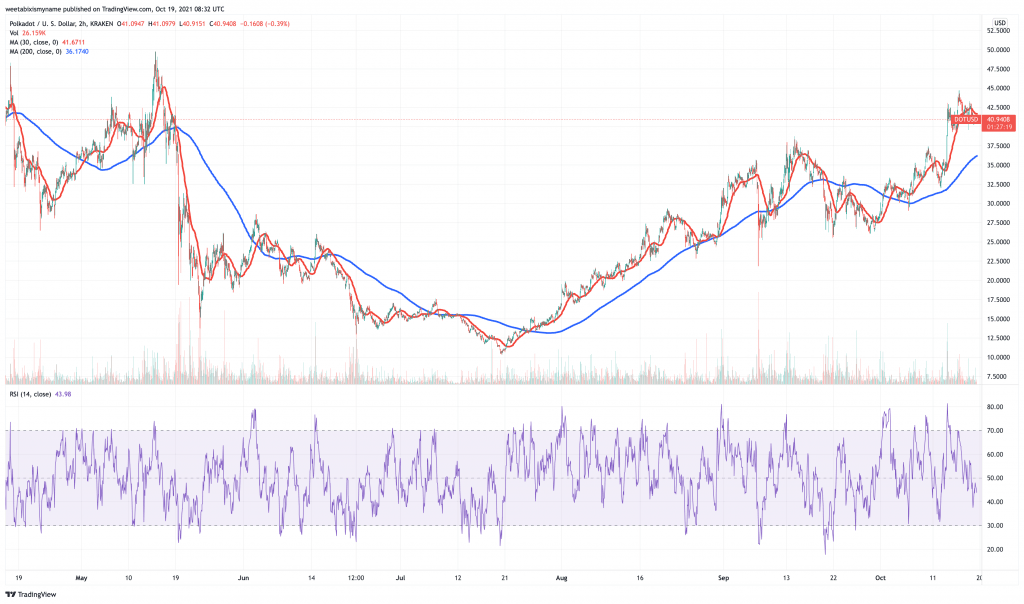 DOT is in a very good position right now for potential buyers. It still remains on an uptrend (as indicated by its moving averages), but its RSI is nearing 40. Basically, it continues to have good medium-term momentum while also being almost oversold right now.
And DOT is very much likely to continue rising in the near future. Most significantly, auctions for its parachains (side-chains which comprise its overall network) are due to begin on November 11. Once buyers do claim parachains, expect demand for DOT to increase rapidly.
Referendum 39 is currently up for a community vote, if passed it will schedule the first auction to take place on November 11, 2021 [a little over 26 days]. Reminder for those wishing to take part in auctions, the unbonding period on Polkadot is 28 days.https://t.co/h9E4gNR60M

— Polkadot (@Polkadot) October 15, 2021
67% of retail investor accounts lose money when trading CFDs with this provider
Read more: