The cryptocurrency market has recovered slightly after another difficult weekend. Its total value is now $2.72 trillion, having risen from $2.56 trillion on Saturday. Most major cryptocurrencies have risen along with the market, with ethereum (ETH) up by 2.5% in the past day and by 7.7% in the past week. However, if you're looking for cheaper coins to buy for when the market fully recovers, we've put together a list for you. This is the 5 best cryptocurrency to buy on low prices. It covers coins priced at around $100 or under.
5 Best Cryptocurrency to Buy on Low Prices
1. Shiba Inu (SHIB)
SHIB is unquestionably the day's big winner among the top-100 coins. It has risen by 25% in the past 24 hours, hitting $0.00004876. This also represents a 12.8% rise in the last seven days, although the coin remains 25% down in the past month.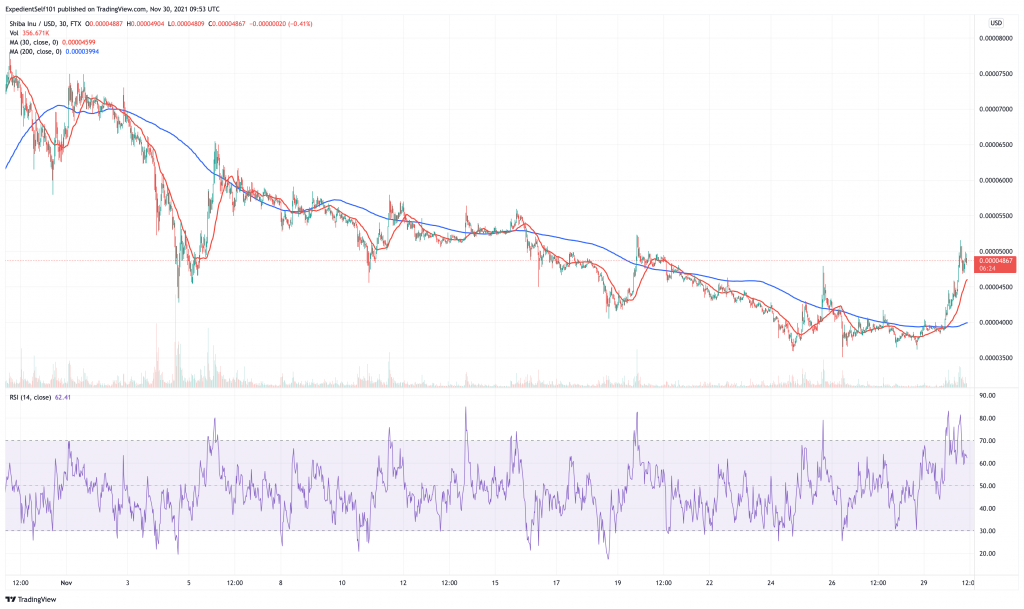 SHIB's indicators point towards a breakout. Its relative strength index (in purple above) rose as high as 80 in the past 24 hours and has remained high since. Its 30-day moving average (in red) has climbed well above its 200-day average, indicating a new price level.
The reason? Kraken has announced that it will be listing SHIB on its crypto-exchange, which is one of the world's biggest and most reputable. Trading starts today (November 30), so expect the new injection of liquidity to raise SHIB's volatility.
New Listing on Kraken: @Shibtoken ?$SHIB deposits begin NOW! Trading is live November 30.

➡️ Learn more: https://t.co/yUUKaBXKBq pic.twitter.com/L2IUHugyG0

— Kraken Exchange (@krakenfx) November 29, 2021
More generally, SHIB remains one of the most popular meme coins out there. It may not have any fundamental use case per se (beyond pure speculation), but it has a loyal community of followers. This is likely enough to keep its recurring rallies going for the foreseeable future.
2. The Sandbox (SAND)
SAND has fallen since hitting an all-time high of $8.40 some five days. At $6.80, it has dropped by 5% in the past day. However, it's up by 37% in the last seven days, and by 284% in the past month.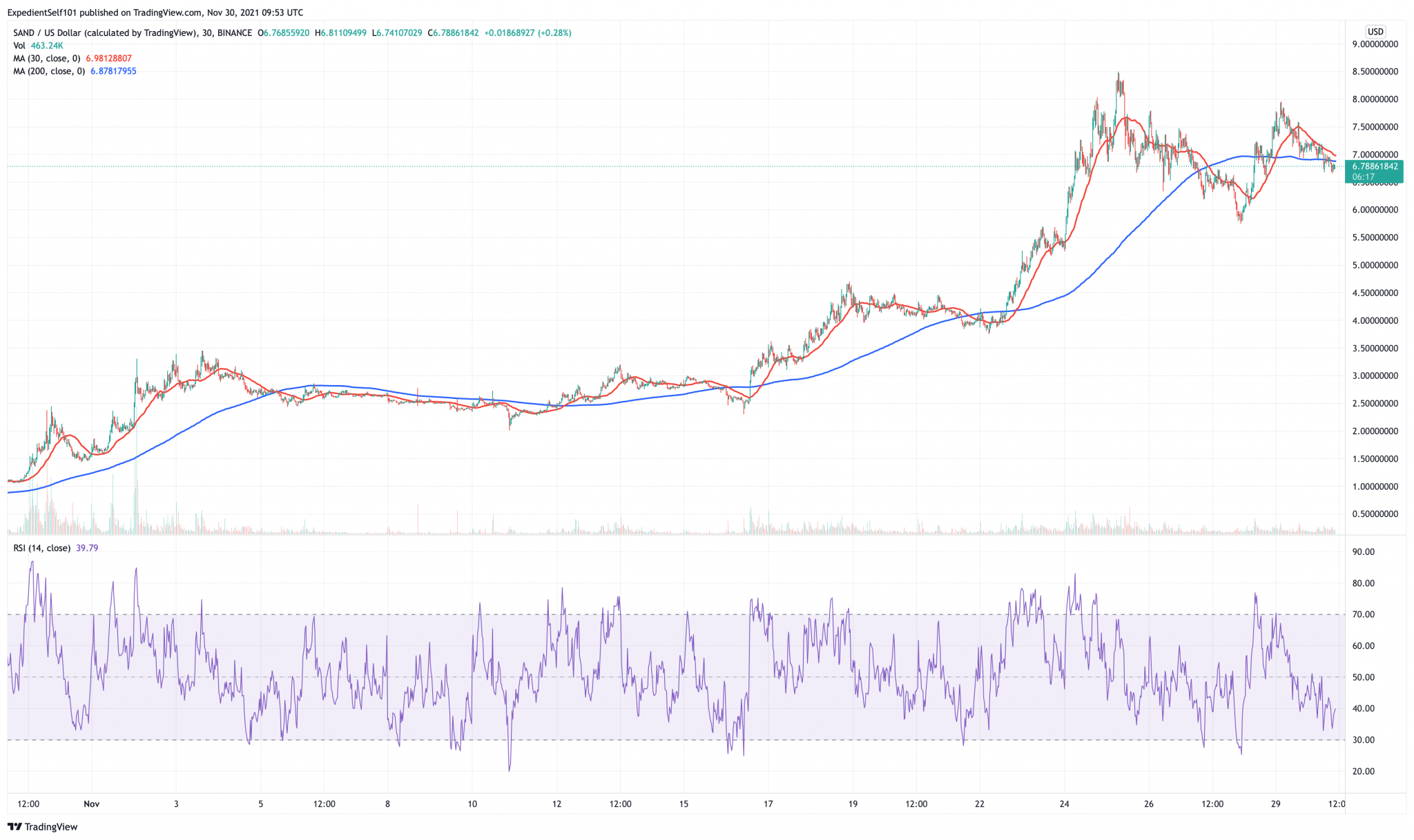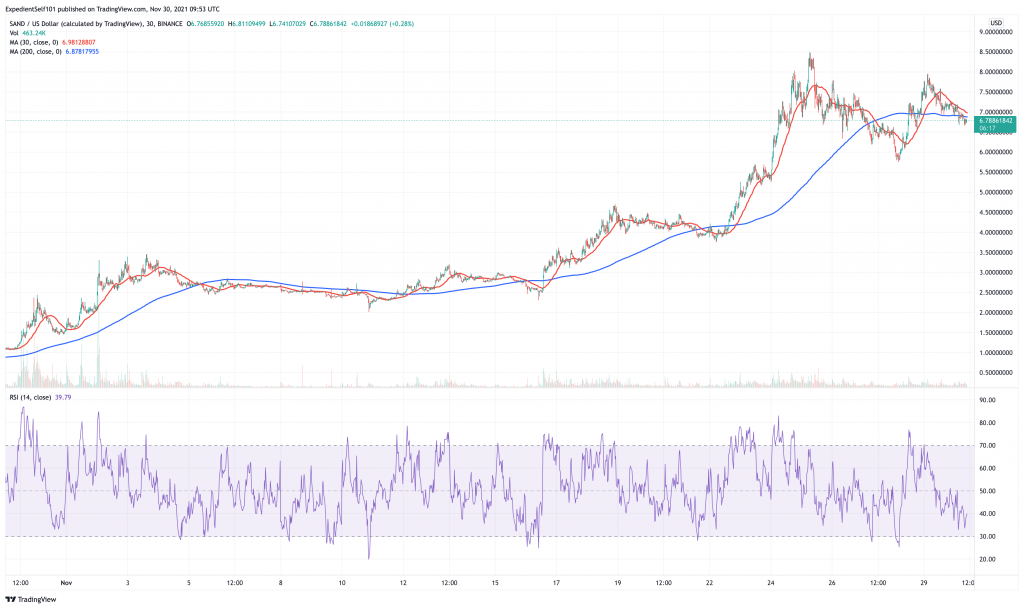 SAND's longer term momentum and prospects remain very good. This is why its sinking technical indicators should be taken as an encouraging sign. Basically, with its RSI nearing 30 and its 30-day average falling, it suggests an ideal time to buy the coin at a discount.
SAND is the native token of NFT-based open-world game The Sandbox, which attracted a $93 million investment from SoftBank and other VC funds at the start of the month.
Such an investment suggests that big money is betting on the Sandbox, which has been growing over the past year. It boasted $144 million in total transaction volumes at the time of its raise, although this total is now likely to be significantly higher. It also claimed 40 million app downloads back in 2020, highlighting its organic growth prior to this year's 'metaverse' craze.
3. Gala (GALA)
GALA is down by 7.5% in the past 24 hours, at $0.635054. It is, however, up by 62% in the past week and by 500% in the past month.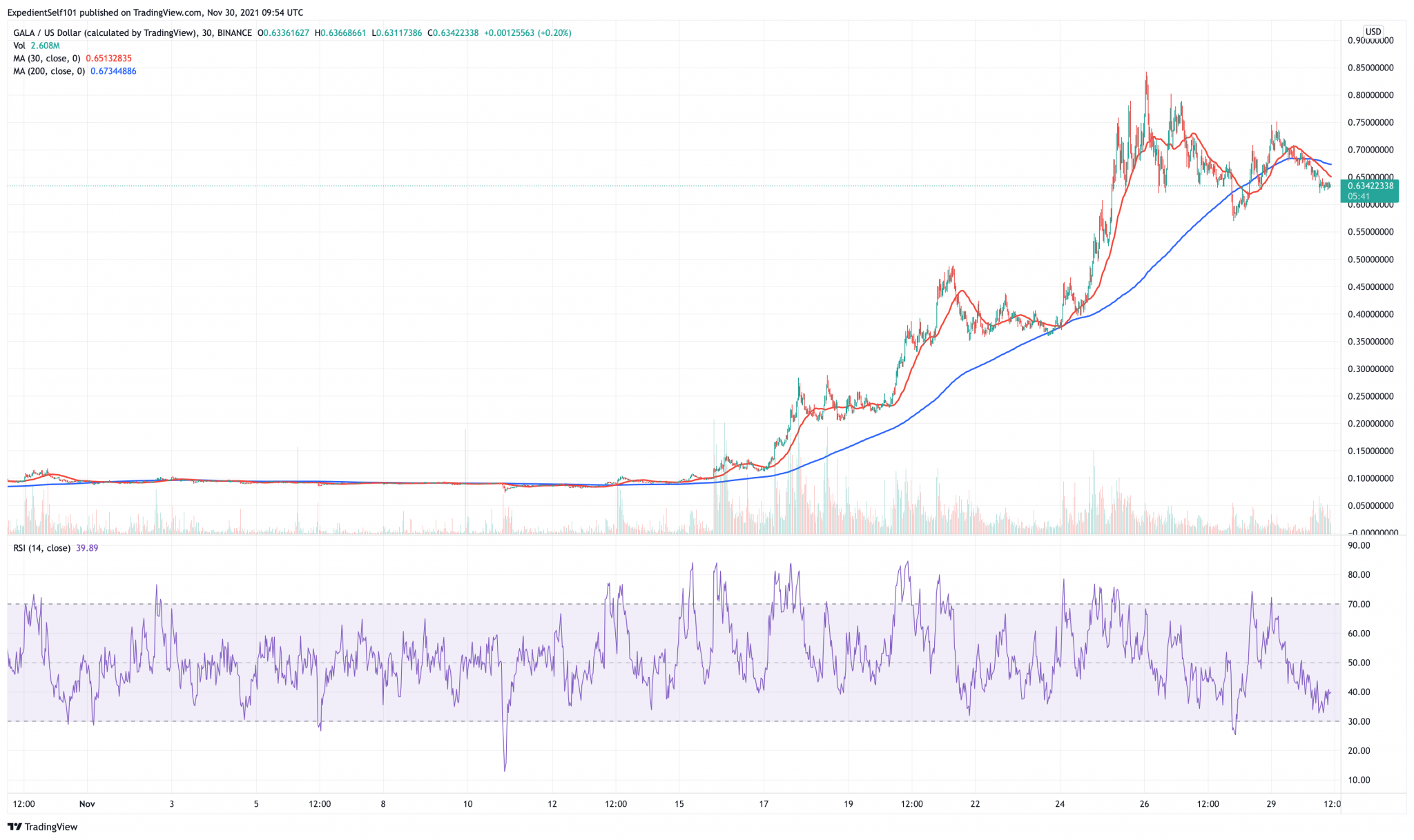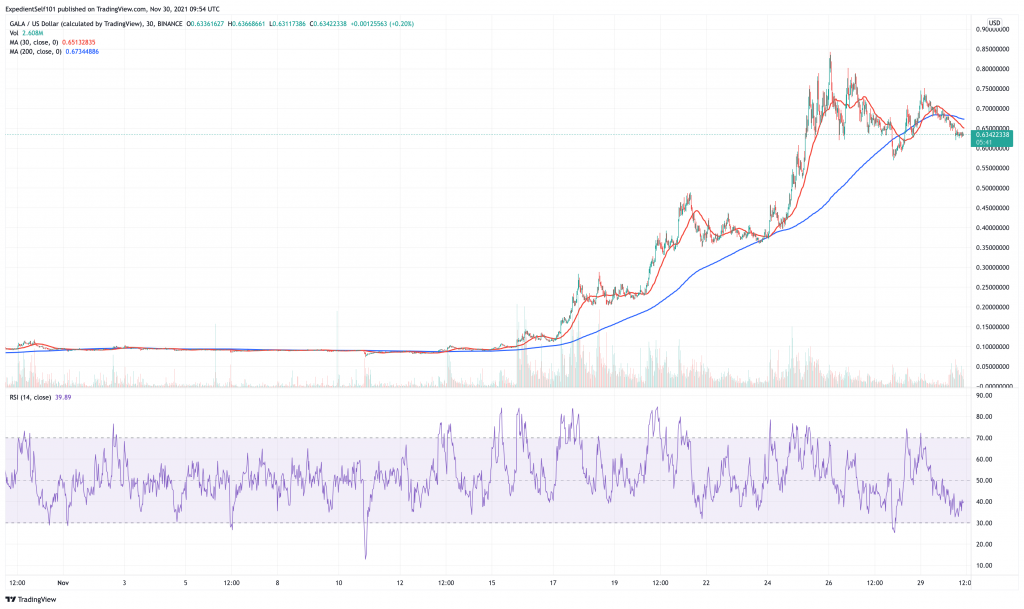 As with SAND, GALA is currently cooling off a little after a dizzying few weeks. Its RSI stands at 40, while its 30-day average has dipped below its 200-day. Such a crossing is often a bad sign, but in GALA's case it likely represents a welcome short-term correction prior to a long-term appreciation.
GALA is the native token of Gala Games, another NFT-based gaming platform. It runs on the Ethereum blockchain, and can be used to build blockchain-based games. It recently announced that it plans to spend around $1 billion on development, indicating the seriousness of its intentions.
Two main takeaways from the @GoGalaGames Spider Tank World Cup in Seoul:

1.) We are built differently and we will always and consistently drive to level up…always.
2.) We announced that we are going to deploy $1b USD into game development in Korea. https://t.co/nvQEYgl3kQ

— Jason (BitBender) Brink (@BitBenderBrink) November 28, 2021
A number of traders on Crypto Twitter have stuck their necks out to say that GALA will massively exceed its current price. Of course, many be trying to influence the market, but their excitement at least indicates the kind of momentum behind the coin right now.

$GALA ?
° $10
°
°
° $5
°
°
° $1
°
?
?

— LordStocksPicks♓️ (@LordStocksPicks) November 29, 2021
4. Basic Attention Token (BAT)
At $1.51, BAT has begun climbing in the past hour, after falling by nearly 5% in the last 24. Its current price is also a 45% gain the last week, and a 30% rise in the past fortnight.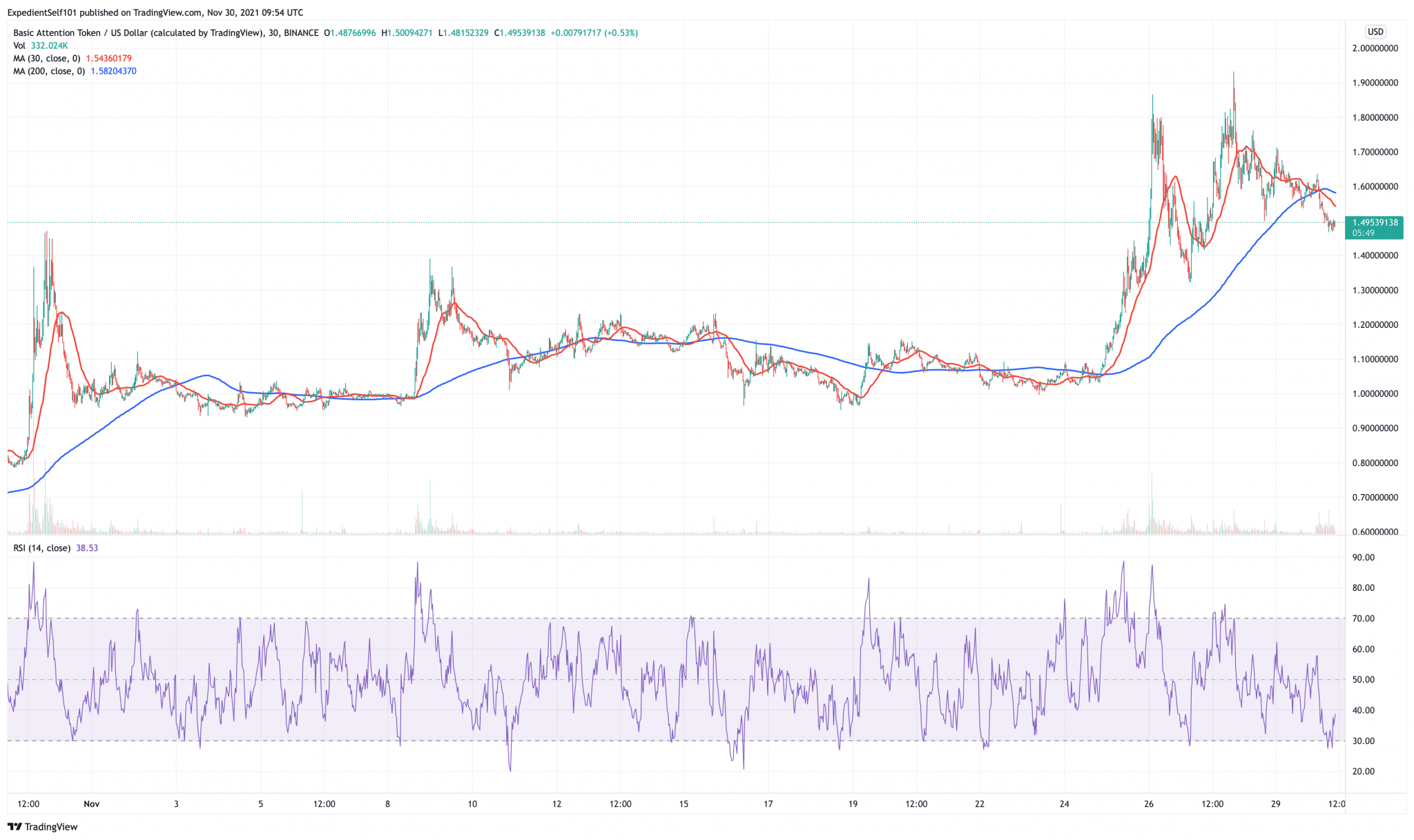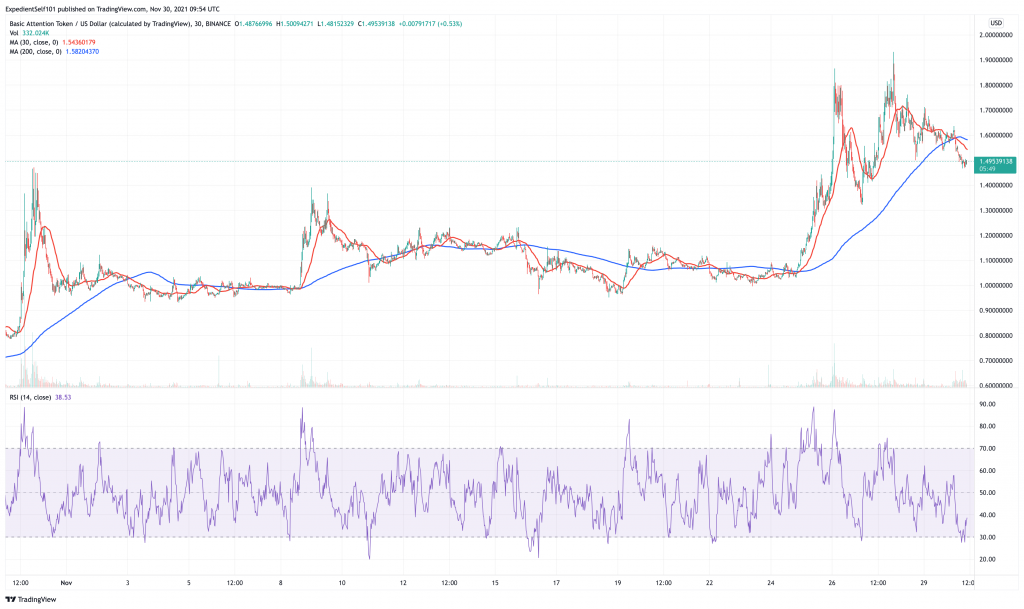 BAT is another hot coin that's cooling off right now, as shown by its indicators. That said, it has good enough fundamentals to suggest that this current dip is a good opportunity to buy it at a discount.
BAT is another coin that has been rising as a result of excitement surrounding the 'metaverse' and Web 3.0. It's the native coin of Brave's privacy-oriented web browser, which rewards users with BAT for engaging with content and ads.
Brave have increased enthusiasm for BAT via a number of recent launches. It rolled out its own Brave Wallet just over a week ago, coinciding with its most recent spike.
We're thrilled to launch the new #BraveWallet, a crypto wallet built into the Brave desktop browser (mobile coming soon), enabling Brave users to store, manage, grow, and swap their crypto portfolio from a single wallet, as well as connect with Web3 DApps. https://t.co/fU5Kxkwvul

— Brave Software (@brave) November 16, 2021
It also integrated with the Solana blockchain earlier in November, serving to renew interest in BAT after a long period spent under $1.
Brave is bringing Web3 to mobile – allowing users to interact with every Solana dapp in iOS and Android via the open web pic.twitter.com/lbpmTHF3WN

— Solana (@solana) November 8, 2021
BAT is therefore worth keeping an eye on, since it overlaps with current market trends and is growing healthily. This is why it's one of our 5 best cryptocurrency to buy on low prices.
5. Decentraland (MANA)
Rounding off a selection dominated by metaverse coins, MANA is down by $4.70 in the past 24 hours. At $4.70, it's up by 15% in the past week though, as well as 41% up in the past 14 days.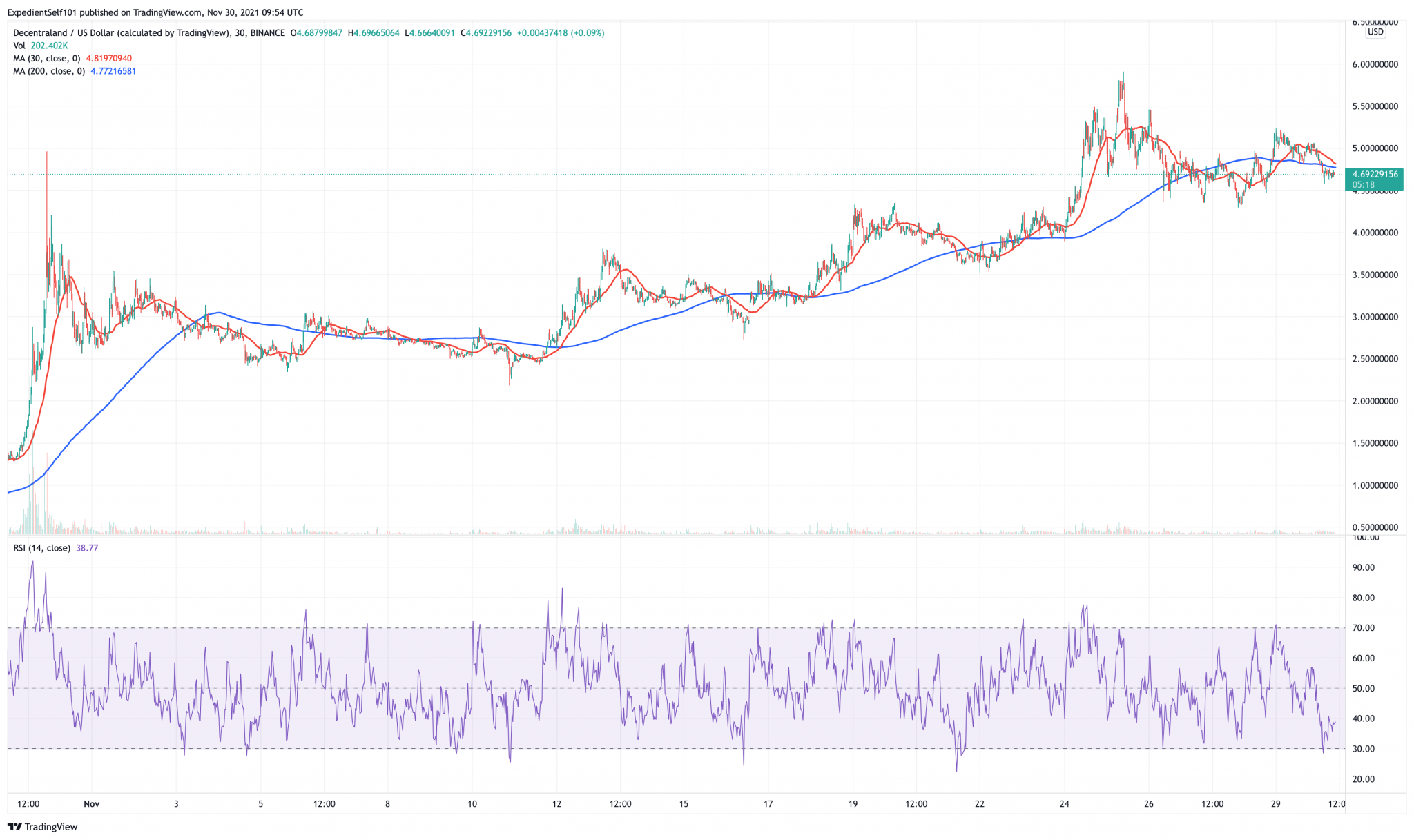 MANA is also correcting a little following a big surge. In other words, now may be a good window of opportunity to enter its market before it becomes less cheap.
MANA was the first gaming-related coin to rally noticeably following Facebook's rebranding to Meta on October 28. This is largely because its native platform, Decentraland, was probably the most well-known blockchain-based metaverse product.
Since then, interest in Decentraland has risen considerably. This has been most vividly underlined by a number of high-value purchases for virtual land within the Decentraland platform.
The @dcllandbot having fried its circuits, we're pleased to officially announce the largest metaverse land purchase ever! Congrats to @tokens_com and @Metaverse_Group for securing a 116 parcel estate in the DCL fashion precinct. And if you're in the fashion industry – get ready! pic.twitter.com/IGyb4nbZQW

— Decentraland (@decentraland) November 23, 2021
While Decentraland will continue to experience strong competition from Sandbox and Gala Games, it's likely to remain popular for some time to come. As such, it's well-positioned to continue riding out the wave of interest in the metaverse. This is why it's one of our 5 best cryptocurrency to buy on low prices.
Capital at risk
Read more: